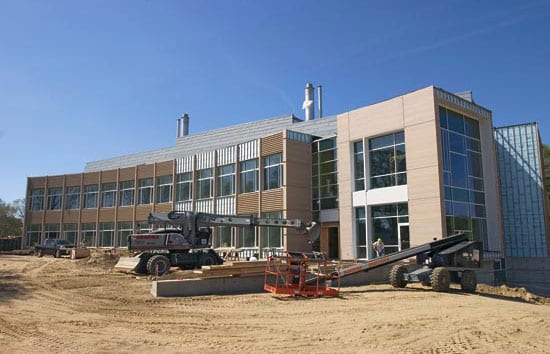 WHOI Announces $200 Million Capital Campaign
article about WHOI's capital campaign
A total of $118 million donated or pledged; $82 million left to raise—that was the tally as WHOI emerged from the "quiet" phase of its capital campaign and announced the public phase at its Board of Trustees meeting in January.
WHOI Director of Development Dan Stuermer said the first phase of the campaign secured funds to:
build R/V Tioga, WHOI's 65-foot coastal research vessel, launched in 2004;
construct two new buildings—a 32,000-square-foot Marine Research Facility and a 36,000-square-foot biogeochemistry building—which should be ready for occupancy by fall of 2005;
launch the four WHOI Ocean Institutes: the Ocean Life Institute, the Coastal Ocean Institute, the Ocean and Climate Change Institute, and the Deep Ocean Exploration Institute.
"The Ocean Institutes have disbursed $12 million in research funding to 128 scientists, engineers, students, and postdoctoral scholars through 2004," Stuermer said. "They have often funded high-risk, high-reward research or innovative projects that joined biologists, chemists, geologists or physical oceanographers. Such research is harder to fund via traditional federal funding. But privately seeded research has demonstrated proofs-of-concept that have advanced our knowledge and that have often leveraged significant further research funding."
As the campaign marches on, major goals include endowments to secure the future of the Ocean Institutes and to fulfill the Access to the Sea (ATS) Initiative, Stuermer said. The ATS Fund supports new approaches for seagoing research, including the development of new technology (vehicles, observatories, and sensors), ship time for scientists, engineers, and students, and funding for scientifically critical but expensive exploratory expeditions in remote locations.