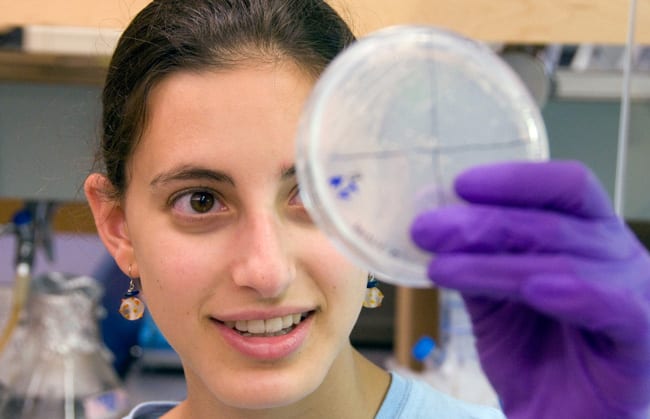 Rose Kantor collected samples of microbes from a fjord off Vancouver Island to study how bacteria communicate via chemical signaling called quorum sensing. (Photo by Tom Kleindinst, Woods Hole Oceanographic Institution)
Rose Kantor
Quorum sensing among bacteria
|
"Being from the Midwest," said Minneapolis native Rose Kantor, "it had never even crossed my radar to do oceanography." The biology major from Carleton College applied to a dozen institutions for summer research fellowships and was surprised to find that her ideal microbiology project would not only bring her to Woods Hole Oceanographic Institution (WHOI) but also to the fjords of Vancouver Island, Canada.
She started her Summer Student Fellowship with WHOI marine chemist Tracy Mincer on a cruise to Clayoquot Sound on board the research vessel Clifford A. Barnes to study bacterial communication and the carbon cycle. The cruise involved five days of collecting samples of marine particles in sediment traps and bringing them back to Woods Hole to culture in the lab. Mincer and Kantor wanted to gain a better understanding of how bacteria communicate via chemical signaling called quorum sensing.
Quorum-sensing bacteria produce and release chemical signal molecules that become more concentrated as more bacteria aggregate in an area. Kantor was responsible for isolating pure cultures of bacteria, freezing them, and sequencing their DNA. That enabled her to identify each culture and study how they regulate the expression of the genes encoding the enzymes that produce the chemicals the bacteria use to communicate.
"The interdisciplinary nature of my project kept it interesting throughout," Kantor said. "My favorite parts were the cruise in Clayoquot Sound and the day I got my DNA sequences back and was finally able to identify some of the bacteria I'd been culturing."
"This program has given me a feel of how research is done in oceanography, from the cruise to the lab to the Ph.D. defense, " said Kantor. "It gave me opportunities to learn about subjects I never would have heard of at my home college."
Kantor wants to pursue a career in science at some point in the future but hopes to take a few years to decide exactly what she wants to study. After graduating next spring, she is considering returning to South America as a volunteer (she speaks Spanish and spent a semester in Ecuador). She also enjoys singing, swimming, and poetry.