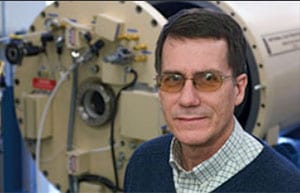 People Around WHOI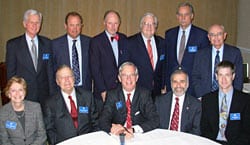 WHOI Trustees create committee to complete $200 million campaign
A Trustee Campaign Committee has been established to lead WHOI's $200 million capital campaign to the finish line. To date, the campaign has raised $150 million.
The committee, chaired by Newt Merrill, comprises Rod Berens, Bob James, Nancy Newcomb, David Stone, and four chairmen of the Ocean Institute Trustee committees: Peter Aron (Deep Ocean Exploration Institute), Ted Dengler (Ocean and Climate Change Institute), Bill Kealy (Coastal Ocean Institute), and Reuben Richards (Ocean Life Institute). Jim Moltz, Tom Wheeler, and Carl Peterson are ex-officio members.
The campaign has already helped fund WHOI's new coastal research vessel Tioga and campus improvements, including two new buildings and additions that increased the Institution's total laboratory space by 30 percent. Now the campaign is focused on completing endowments for the Ocean Institutes and for the Access to the Sea (ATS) Initiative.
The ATS endowment funds development of advanced seagoing technologies and opportunities for high-risk, high-reward seagoing research, often in remote, unexplored regions.
The Ocean Institutes, created in 2000, fund early-stage, high-potential research and collaborative research among geophysicists, biologists, chemists, physical oceanographers, and engineers—research unlikely to receive government funding.
To date, the Ocean Institutes have disbursed about $16 million in private funds to more than 150 scientists, engineers, and students at WHOI. Several Institute-funded proof-of-concept projects have leveraged substantial federal funding.
Image caption: Seated left to right: Nancy Newcomb, Reuben Richards, Newt Merrill, Bob Gagosian, Ted Dengler
Standing: Tom Wheeler, Rod Berens, Carl Peterson, Peter Aron, Dan Stuermer, Jim Moltz
Not pictured: Bob James, Bill Kealy, Jack O'Brien and David Stone
---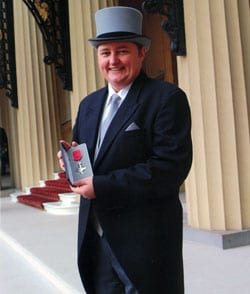 Tip your hat to new head of deep-sea vehicles facility
For Chris German, the road to WHOI included a stop at Buckingham Palace for a medal that recognized his contributions to marine science and deep-sea technology.
"The queen wasn't there, so Prince Charles distributed the medals," said German of the 2002 honor, given to British citizens for "contributions to the United Kingdom above and beyond the normal call of duty."
In January 2006, German became the new chief scientist of the National Deep Submergence Facility. The federally funded facility, operated by WHOI, provides a small fleet of deep-sea vehicles for use by the national scientific community, ranging from the Alvin submersible to the remotely operated vehicle (ROV) Jason.
German comes to WHOI after 15 years at the National Oceanography Centre at the University of Southampton, where he spearheaded development of Britain's first ROV, Isis, which was built at WHOI.
German earned B.A. and Ph.D. degrees in geology and geochemistry at the University of Cambridge in England. He studies the geochemistry of superheated fluids emanating from seafloor hydrothermal vents, which sustain exotic communities of life in the sunless depths.
German's career-long search for vents has made him well acquainted with the deep-sea technology required to find and study them. He has sailed as chief scientist on American, British, German, and Icelandic ships and also participated on French, Portuguese, Japanese, and Russian research cruises.
He is currently co-chair of ChEss, an international project of the worldwide Census of Marine Life that steers research on deep-sea chemosynthetic ecosystems ("a lonely geochemist among biologists," he joked).
Image caption: Chris German (Photo courtesy of Chris German)
---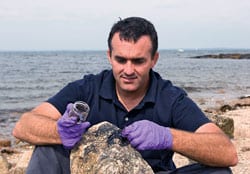 Reddy wins Leopold award to communicate research
Marine chemist Chris Reddy has been selected as a 2006 fellow of the Aldo Leopold Leadership Program, sponsored by the Stanford Institute for the Environment. He will join 17 researchers from various scientific fields and North American institutions in an intensive training program designed to help them communicate environmental research more effectively to non-scientists.
The program was launched in 1998 with the goal of encouraging and teaching scientists to share their observations and findings with policymakers, media, and the public. The program is named for Aldo Leopold, a renowned environmental scientist whose writings—including his 1949 book, A Sand County Almanac—helped focus the modern American conservation movement.
Image caption: Chris Reddy (Photo by Tom Kleindinst, Woods Hole Oceanographic Institution)
---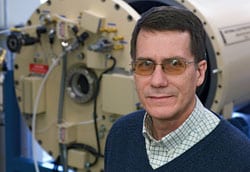 Jenkins is new director of national mass spectrometer
Physicist Bill Jenkins, a senior scientist and 32-year veteran of the WHOI Marine Chemistry and Geochemistry Department, has been named the new director of the National Ocean Sciences Accelerator Mass Spectrometer (NOSAMS) facility. Jenkins is just the third director of the facility, established in 1989 on WHOI's Quissett campus to provide radiocarbon analysis (principally carbon-14 dating) of marine sediments and the organic and inorganic compounds that reside in the water.
Jenkins succeeds John Hayes, a WHOI senior scientist who had led the facility since 1996. In addition to managing a staff of 17 and a $3 million budget (half from the National Science Foundation, half from user fees), Jenkins will lead NOSAMS scientists in stretching and improving the capabilities of the national facility.
Image caption: Bill Jenkins (Photo by Tom Kleindinst, Woods Hole Oceanographic Institution)