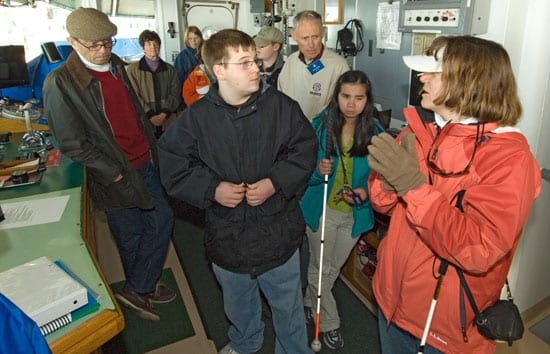 OceanInsights for the Blind
WHOI scientist creates a bond with visually impaired students
|
WHOI physical oceanographer Amy Bower brought along a few extraordinary passengers when she set out to the Labrador Sea aboard the research vessel Knorr in September: Kate Fraser, a science teacher at the Perkins School for the Blind, and via an innovative Web site, Fraser's students.
Bower telephoned Perkins daily from the Knorr to describe the expedition and her research to science students, who also followed the cruise through OceanInsight, a Web site Bower created especially for Perkins students and other visually impaired students. The site features "audio postcards"—audio files of shipboard sounds. ("I'm looking at the thrusters," Fraser says in a postcard from the ship's engine room. "You can tell, from the whine, how it's running," says Knorr crew member Kyle Covert. "Hear that whine?")
Bower, who is legally blind, uses adaptive technologies such as text reading and magnification software, and pursues a research career—including research cruises around the world—and her life outside of work, skiing, sailing, and promoting activities for the visually impaired community (see "A Warm Eddy Swirling in the Cold Labrador Sea").
"I knew about Perkins School, near Boston, and e-mailed, asking if Perkins would be interested in doing something with me," she said. Perkins' president, Steven Rothstein, put her in touch with the school's science teachers, and the outreach project crystallized.
Before the cruise, Perkins students did tactile, hands-on activities in their classes, and designed simple experiments for Bower and Fraser to do on the cruise and tell them about, as a way to learn about measurements and ocean environments.
"It can be difficult for students who have never seen a map, visually, to understand that places might have different environments—cold or warm," Bower said.
The greatest impact for the students has been from personal contact with Bower, who visited students at the school and brought them to visit WHOI. During their daily calls to Knorr, students asked questions ranging from the weather at sea to the instruments' battery life, to whether the mooring's anchor weights would contribute to pollution. When one student asked: "Why did you get seasick?" Bower's answer brought laughs: "It's like being on a ride at the amusement park that never ends," she said. "You can't get off, and it keeps going, and going, and going."
"Amy made the project happen," Fraser said. "She was their role model," helping to inspire the students to think that careers such as hers are possible for them.  Fraser said one of her students told her, "The cruise helped start my interest in science." Another said,  "It made me think about the ocean in a different way than before."
Bower studies rotating rings of warm water, called eddies, that occasionally form in the cold Labrador Sea. The eddies play a role in the ocean's global circulation, which distributes heat around the planet and helps regulate climate.
On the September cruise, Bower and colleagues deployed an innovative mooring to launch instruments (called profiling floats) into passing eddies (see "Submerged Autonomous Launch Platforms). But near the end of the cruise, Bower's team found an area of slightly warmer water that might have been an already-formed eddy and launched one float by hand from the deck of the Knorr. Float #5263 was nicknamed "Perkins," and students can track it as makes its way through the Labrador Sea, dutifully announcing its position and relaying the information it collects.
The OceanInsight Web site was funded by the National Science Foundation and the WHOI Support for Broader Impacts Program. Kate Fraser's participation in the cruise was supported by Perkins School for the Blind, in part via a grant from the KeySpan Foundation.