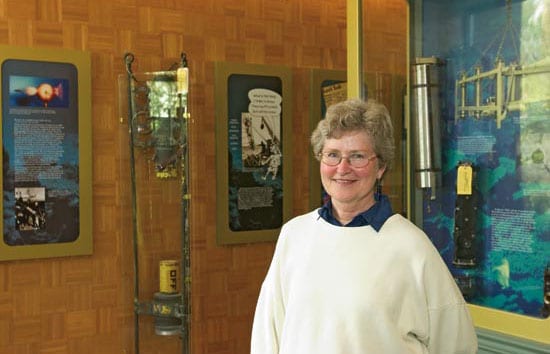 Institution Celebrates 75th Birthday in 2005
|
WHOI celebrates 75 years of ocean research, education, and exploration this year with several events planned for August and September.
A fleet of unusual water craft will parade in Woods Hole's Great Harbor in an Anything-But-a-Boat Regatta, Aug. 6.
Down to the Sea for Science, a 184-page book depicting WHOI history in words and pictures, written by Vicky Cullen, is scheduled for delivery in August.
A public open house, the first in 25 years, Sept. 10.
A two-day symposium featuring six scientific themes, Sept. 21-22, followed by a day of activities for MIT/WHOI Joint Program alumni/ae and commencement on Sept. 24.
More information on these events is posted at www.whoi.edu/75th, along with a series of weekly word-and-picture portraits of WHOI employees through the years, and anniversary merchandise, including a jacket, shirts, shorts, a pen, a mug, a keychain, and a photomosaic poster combining 4,500 photos from the WHOI Archives into an image of the Institution's first open-ocean research vessel, Atlantis.