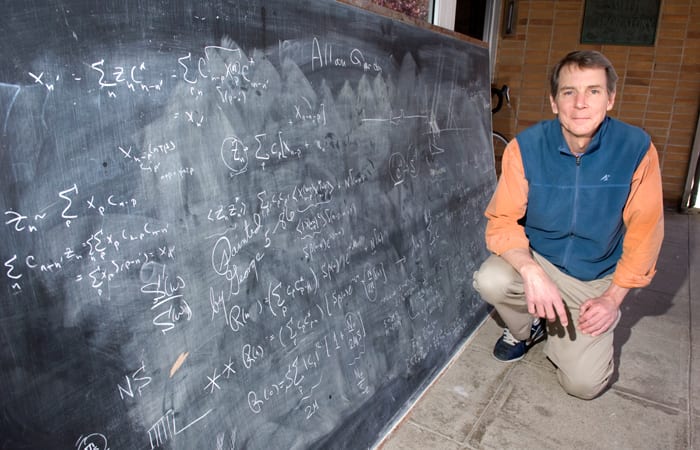 Historical Formulas Sealed Behind a Wall
... and other news around the WHOI campus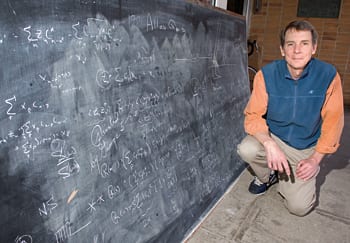 Workers reveal historical formulas sealed behind a wall
Twenty-two years ago, workers renovating a WHOI conference room decided that two chalkboards covered in mathematical formulas looked too interesting to throw away. In a corner of one board, they added a few notes, then sealed the boards behind a new wall.
The formulas provide the theoretical underpinnings of a significant advance in the performance of a type of sonar that has become a staple of oceanographic research: the broadband acoustic Doppler current profiler, or ADCP. The instrument, which measures water velocity and direction over a range of depths, is widely used by scientists worldwide to measure currents and surface waves and is routinely deployed on ships, moorings, and seafloor installations.
On May 6, 2008—exactly 22 years to the day after they were covered up—the long-forgotton boards were found by construction workers renovating the same conference room. The ADCP's success made the rediscovery of the long-hidden formulas akin to finding an original recipe or music recording. They propped the chalkboards in the lobby of the Smith Building, where they caught Gene Terray's attention.
"I took a look and said, 'Gee, that looks familiar,' " said Terray, a researcher in the Department of Applied Ocean Physics and Engineering. "I looked more closely, and it turns out that a colleague of mine and I had written them."
The colleague was Blair Brumley, a WHOI scientist who later joined RD Instruments (now called Teledyne/RDI), which patented the broadband ADCP technology and has been selling them ever since. The original research was funded by a National Science Foundation Small Business Innovative Research grant, which supports early research and development of projects "that could lead to significant commercial and public benefit."
Broadband ADCPs have had a major impact on research on ocean circulation and air-sea interactions, both of which are important for understanding weather and climate, as well as more practical areas, such as monitoring river discharges and storm surges and handling ships in constricted waters.
As pleased as Terray was to see the formulas, he was also struck by unrelated notes added to the boards in 1986. They summarized worries of the day, including Cape Cod housing prices ("out of control, people can't cope," someone wrote); threats to national security (Moammar Khadafi); and gas prices (82.9 cents a gallon).
Photo by Tom Kleindinst, Woods Hole Oceanographic Institution
---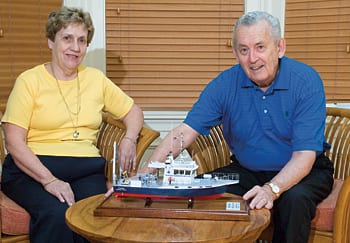 A model of WHOI's newest ship
"I've built models my entire life," said James Orr, honorary member of the WHOI Corporation. So after closely following the construction of WHOI's coastal research vessel Tioga and visiting the shipyard and the marine architect, Orr constructed by hand a 1:48-scale detailed replica of Tioga, based on the shipbuilder's drawings. In June, he updated the model on display in the lobby of Fenno House at WHOI. Orr has long had an interest in ships, particularly ancient Greek vessels, and he and his wife, Jane, have generously supported the marine archaeology research of WHOI scientist Brendan Foley. Building the Tioga model "was a fun project," Orr said, "that took the better part of three years, working out how to make this or that part."
Photo by Tom Kleindinst, Woods Hole Oceanographic Institution
---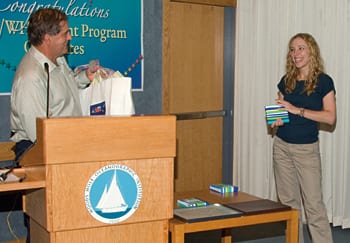 To the 800th degree
­Carly Strasser, one of nine graduates of the MIT/WHOI Joint Program in Oceanography/Applied Ocean Sciences and Engineering in June 2008, was surprised to discover her status: She was presented with the Joint Program's 800th degree. In all, 801 degrees have been awarded in this innovative graduate education partnership, one of the world's foremost ocean science programs. The Joint Program is marking its 40th anniversary throughout the year. Celebrations include a gathering of alumni/ae held at the March 2008 Ocean Sciences meeting in Orlando, Fla., a science symposium to take place at MIT, and a career seminar and cookout at WHOI, both in late September. During the June reception at WHOI to honor recent degree recipients, James Yoder, vice president for academic programs and dean of the program, recognized seven doctoral degree and two master's degree recipients. He gave Strasser a surprise gift from the Academic Programs Office in recognition of receiving the 800th degree: a WHOI sweatshirt, which should go nicely with her Ph.D.
Photo by Tom Kleindinst, Woods Hole Oceanographic Institution
---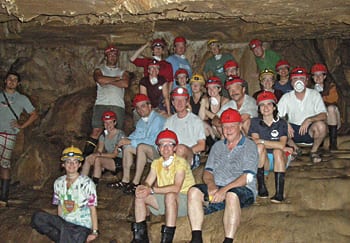 Under the volcano
Why study a volcano only on the surface, when you can also go under it? Fifteen MIT/WHOI Joint Program graduate students and their instructors explored the Venado caves near Arenal Volcano in Costa Rica in June. The caves, 15 million to 20 million years old, were once submerged in seawater and host to corals. Now, they house bats (hence the face masks to curtail guano inhalation). The field trip capped the annual WHOI Geodynamics Program, a semester of weekly seminars, given by scientists invited from many research institutions, on cutting-edge research on a particular earth sciences topic. This year's program focused on subduction zones, where Earth's tectonic plates bend back down toward the planet's interior, usually creating volcanoes in the process. The Geodynamics Program was started in the early 1980s by WHOI scientists Henry Dick, Jack Whitehead, and Hans Schouten, with funding from the Keck Foundation, to promote interdisciplinary research. Program sponsors now include the WHOI Academic Programs Office and the Deep Ocean Exploration Institute.
Photo by Jay Barr, MIT
From the Series
Featured Researchers