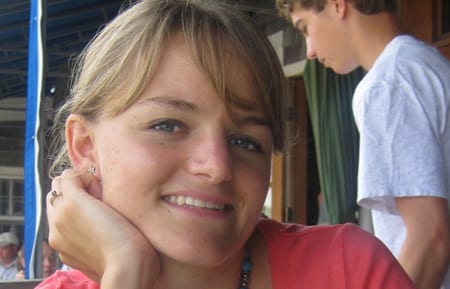 Clara Smart
|
Ask Clara Smart about her interests, and be prepared to receive a formidable list of hobbies and academic pursuits: photography, competitive cycling, knitting, English literature, the ocean, jazz, and robotics.
Smart is an electrical engineer about to enter her final year in Northwestern University's five-year Walter P. Murphy Cooperative Engineering Education Program. As part of her co-op, she has worked for defense company Northrop Grumman and participated in several university projects on which she honed her skills as an electrical-mechanical systems and control systems engineer. "Basically, that means robots," she said.
Since watching a film about underwater robotics in seventh grade, Smart aspired to work in the Deep Submergence Lab at Woods Hole Oceanographic Institution (WHOI) and help build devices for marine research. She reached her goal this summer working with WHOI scientist Hanumant Singh. She combined her interests in engineering and the ocean with her love of photography by working on undersea image processing.
Smart, a native of Seattle, spent the summer devising a new kind of faceted reflector light for use on deep-sea exploration vehicles, from the mathematical modeling of the device to the construction. The goal is to create a more even light field for taking underwater pictures. By replacing light originating from a single point, such as a bulb, with a mirrored reflector, engineers could eliminate false shadows and achieve clearer, more accurate images under water.
Smart's SSF experience also included testing some deep submergence vehicles and observing some of the other scientists' projects.
"I've definitely come to consider a future in image processing much more, as opposed to the very heavily mechanical side of things," said Smart, who is considering a graduate degree in applied ocean physics and engineering. "What I really want to do is work with robotics and sensors for marine research, and this place is the mother ship."
She also enjoyed at WHOI life outside the lab, exploring the Cape and long-distance cycling.