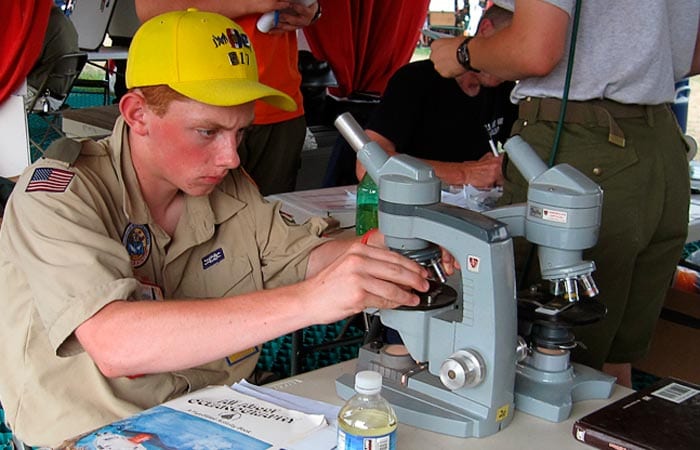 Boy Scouts Get a Taste of Oceanography
WHOI engineer helps Scouts earn merit badges at national Jamboree
WHOI engineer Paul Fucile took some time off this summer to volunteer at this year's Boy Scout National Jamboree and give a glimpse of ocean research to boys who had never visited the seashore or heard the sound of the surf. He helped dozens of Boy Scouts from around the nation earn their oceanography merit badge.
"I asked a Scout from Kansas to describe the impact of waves on the coast, and this was a kid who had never seen an ocean wave in his life," he said.
Fucile has seen plenty of ocean waves; he has spent the last three decades designing, building, and maintaining instruments in the Physical Oceanography Department at WHOI. An Eagle Scout himself, Fucile said scouting influenced his decision to become an engineer.
He brought microscopes, oceanographic charts, computers, and materials to make tow nets to the merit-badge midway, part of the Boy Scout National Jamboree, which takes place every four years. More than 45,000 Scouts attended the 10-day meeting this summer at Fort A.P. Hill in Virginia. They could choose from among 124 merit badges to earn for mastering skills on topics ranging from archery to plumbing to stamp collecting.
By the end of the Jamboree, more than 600 boys had completed at least some of the tasks for the oceanography badge, and 160 had fulfilled all of the requirements.
To earn the oceanography badge, Scouts met nine requirements that took three to six hours to complete. Under the guidance of Fucile and three volunteers from the National Oceanic and Atmospheric Administration, each boy researched and wrote an essay on an oceanographic topic, made a plankton net, and collected water samples from a nearby lake. They set up a microscope, then prepared a slide to look at algae living in the samples they had collected. They were asked about ocean physics and wave dynamics and answered general biology and geology questions.
"For some, the requirements were a real challenge," Fucile said. He estimated that more than two-thirds of the boys who earned the badge hailed from Arizona, Idaho, Montana, New Mexico, and other landlocked states. Several boys told him that they had never seen an ocean except in movies and had no one in their home states to guide them through the badge requirements.
That's where Fucile helped out. He provided the Scouts at the Jamboree with oceanographic textbooks and copies of Oceanus magazine, six laptop computers, and a range of loaned laboratory equipment and materials. He also enlisted the aid of other WHOI scientists and staff. With a donation from the WHOI director's office, Fucile bought materials used by the Scouts. Kathy Patterson, manager of the WHOI Exhibit Center, organized a shipment of WHOI T-shirts and lapel pins. Staff members of Computer Information Services at WHOI readied the laptops. Former Boy Scouts at WHOI provided insights and ideas. Bruce Strickrott, a pilot of the WHOI-operated submersible Alvin, even worked to provide an opportunity for Scouts to talk to scientists during an Alvin dive.
Fucile, whose 13-year-old son Dominic participates in Boy Scouts on Cape Cod, began preparing for the Jamboree two years ago. The national event happens every four years, and Fucile said most Scouts view it as a once-in-a-lifetime opportunity for activities and camaraderie with troops from across the country.
"People went a long way to make sure my Jamboree was special," said Fucile, who attended in 1977. "I wanted to do my part to make it special for others."
During this summer's Jamboree, Fucile gave each boy who earned the oceanography merit badge a pin emblazoned with the WHOI logo. "Trading pins is a big tradition among these boys," he said.  "But when I was giving this pin out to the Scouts I heard most of them say, 'There's no way I'm going to trade this.' "