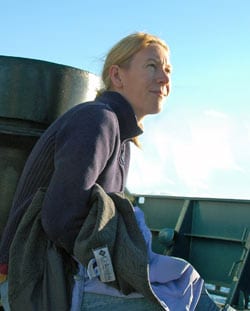 Laura Robinson grew up in the South West of England, spending her
summers in Falmouth, a small town on the coast of Cornwall. After her
student training in Cambridge and Oxford, she spent three years at the
California Institute of Technology and was lucky enough to travel all
over the world collecting and analyzing samples to help her understand
how the Earth and climate system work. She has used tropical and
deep-sea corals, river and ocean water samples, marine sediments and
rocks, and, most recently, ancient ice from Antarctica. Moving to the
Woods Hole Oceanographic Institution in 2006 felt like moving home, she
said. The Massachusetts town of Falmouth, where she now lives, has
similarities to its British namesake: a beautiful coastline and a
welcoming atmosphere. And the time it takes to fly back to London is
about the same as it takes to drive across the U.K.
Are the climate changes we perceive today just part of the Earth system's natural variability,…