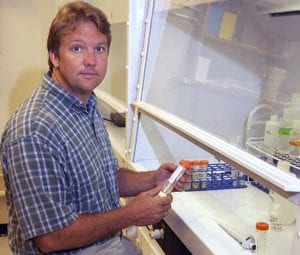 Konrad Hughen grew up in southern California, where seasonality was
measured by the arrival of brighter green on the citrus trees. His
undergraduate education in Santa Cruz, Calif., involved sequential
majors in biology and geology. He thought it would be a "good idea" to
combine the fields to learn how the Earth's climate had changed through
time, having never heard of paleoclimatology. A Ph.D. in geology in
Boulder, Colo., remedied that, and Hughen found himself studying abrupt
climate changes of the past and what may drive them. He spent his
postdoctoral years at Harvard expanding his skills in analytical
geochemistry. His research has taken him from Arctic tundra to coral
reefs and many points in between, an aspect of his career he loves the
most. Hughen and his wife moved to Falmouth, Mass., seven years ago.
They spend their "free" time raising two young daughters.
Natural materials such as shells, ice, corals, and tree rings contain clues to help scientists…