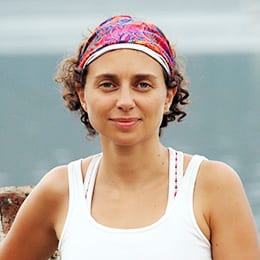 Originally from the Aegean coast of Turkey, Derya's name means "ocean" in Turkish. She earned a bachelor's degree in aerospace engineering from the Middle East Technical University in Ankara (2003) and a master's degree in aeronautics and astronautics from MIT (2005). After three years of consulting in financial services, she realized she wanted to devote her life to the sea and earned a Ph.D. in mechanical engineering and oceanography from the MIT-WHOI Joint Program (2014). Her thesis focused on the camouflage abilities of cephalopods such as cuttlefish and octopus, under the supervision of vision scientist Ruth Rosenholtz at MIT and cephalopod expert Roger Hanlon at the Marine Biological Laboratory. She is currently a postdoctoral fellow at the University of Haifa in Israel, living in Eilat on the Red Sea and working on underwater imaging problems.
She is a PADI Divemaster, an AAUS Scientific Diver, and a certified ice diver. She also loves food, photography, and traveling. In her native Turkey, she campaigned to educate the media and fishermen on conserving sharks to protect the ecosystem and the fishing industry's future.
Her mentor for this article was Hugh Powell, science editor at the Cornell Lab of Ornithology.
There's a great need to collect ocean temperature data. And there are millions of scuba…