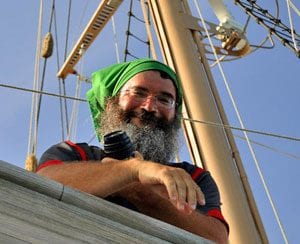 David M. Lawrence was an embedded journalist on the tall ship Corwith Cramer in the summer of 2010 as it crisscrossed the Sargasso Sea in search of floating anthropogenic polymers on the Sea Education Association's Plastics at SEA expedition. In the process, he discovered that the connection he always thought he felt with the ocean was very real. He still feels the call of the sea.
Lawrence's dual careers as scientist and journalist have led to misadventures involving waterspouts, lava, and thorny bushes on Ascension Island; polar bears along the shore of Hudson Bay; a black bear in Colorado; cockroaches in Indonesia; mosquitoes and black flies in Saskatchewan; the stern of a skunk in Arkansas; and an alligator and a water moccasin in his home state of Louisiana. And to more urbane locations such as the Graduate School of Journalism at Columbia University, where he earned a master's degree in journalism; George Mason University, where he earned a master's degree in geography; the Tree-Ring Lab at Lamont-Doherty Earth Observatory, where he learned the joys of dendrochronology; and Chesson Consulting, where he learned to survive staff meetings at the U.S. Environmental Protection Agency.
Somehow Lawrence managed to sit still long enough to write two books, Upheaval from the Abyss: Ocean Floor Mapping and the Earth Science Revolution (Rutgers University Press 2002) and Huntington's Disease (Chelsea House 2009), and contribute to essay anthologies, such as The Science of Dune and The Science of Michael Crichton (both BenBella Books 2008). He is writing a third book, Time Detectives: Climate Change and Scientists' Quest to Know Earth's Future from Its Past for Rutgers University Press, while he pursues a Ph.D. in Media, Art, & Text at Virginia Commonwealth University.
When he is not roaming some sea, mountain, desert, or jungle, he spends his time in Mechanicsville, Va., with his wife, two children, and a menagerie of creatures with legs, scales and fins.
Recent reports of a "Great Pacific Garbage Patch" in the subtropical waters of the North…