Life in a Massachusetts Tide Pool
by Kimberly Amaral
---
This is a map of plants and animals typically found in a Massachusetts tide pool. To view any organism that interests you, or use the text menu below.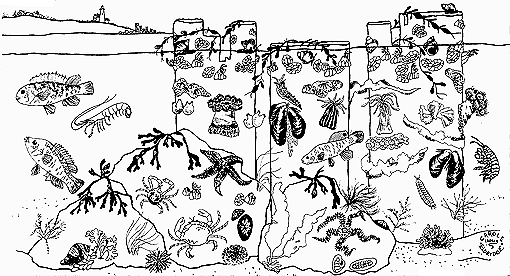 ---
---
Activities for educators and parents:
---
For Further Reading:
Coulombe, Deborah. The Seaside Naturalist. New Jersy: Prentice-Hall, Inc., 1984.

Fox, William T. At The Sea's Edge: An Introduction to Coastal Oceanography for the Amateur Naturalist. New Jersey: Prentice-Hall, Inc., 1983.

Carson, Rachel. The Rocky Coast. New York: McCall Publishing Co., 1955.

Hay, John. The Sandy Shore. Chatham: Chatham Press, Inc., 1968.
---