Who are those critters in the tide pool?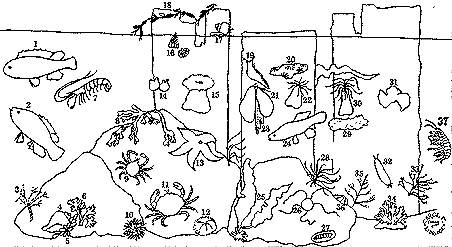 1) Tautog (Tautogo)
2) Cunner (Gadus)
3) Pink Coral Seaweed (Corallina)
4) Atlantic Dogwinkle (Nucella)
5) egg capsules of the Dogwinkle
6) Irish Moss (Chondrus)
7) Glass Shrimp (Palaemonetes)
8) Rock Weed (Fucus) with Coiled Worms (Spirorbis)
9) Spider or Decorator Crab (Libinia)
10) Purple Sea Urchin (Arbacia)
11) Rock Crab (Cancer)
12) Green Sea Urchin (Strongylocentrotus)
13) Eastern Sea Star (Asterias)
14) Sea Squirts (Molgula)
15) Northern Sea Anemone (Metridium)
16) Barnacles (Balanus)
17) Periwinkle (Littorina)
18) Knotted Wrack (Ascophyllum)
19) Nudibranch (Coryphella)
20) Eyed Tunicate (Botryllus)
21) Blue Mussels (Mytilus)
22) Striped Sea Anemone (Haliplanella or Diadumine)
23) Sea Lace (Membranipora)
24) Mummichog (Fundulus)
25) Brown Kelp (Laminaria)
26) Daisy Brittle-Star (Ophiopholis)
27) Chiton (Chaetopleura)
28) Red Seaweed (Polysiphonia)
29) Crumb of Bread Sponge (Halichondria)
30) White Sea Anemone (Sagartia)
31) Sea Lettuce (Ulva)
32) Scale Worm (Lepidonotus)
33) Pink-Hearted Hydroid (Tubularia)
34) Red Beard Sponge (Microciona)
35) Tufted Erect Bryozoan (Bugula)
36) Atlantic Plate Limpet (Acmaea)
37) Rock Amphipod (Gammarus)
---
From "Field Guide Sheet for Eastern Shore Marine Environments: Rocky Shores and Wooden Structures." Developed in 1978 from research sponsored by the University of Massachusetts Cooperative Extension System, Barnstable County Extension Office and funded by the Cape Cod Sea Camps in Brewster, Ma. jointly with the Massachusetts Marine Educators. Funding support was provided by the U.S. Department of Commerce, National Oceanic and Atmospheric Administration, Woods Hole Oceanographic Institution, and Sea Grant.