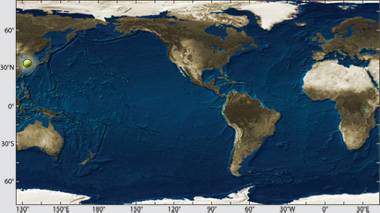 Location: Yellow Sea off Taean County, South Korea
Date: December 7, 2007

Lat./Long.:

36°53'34.97"N, 126° 3'31.70"E

Material spilled:

Light crude oil

Amount spilled:

est. 12,547 tons

Spill extent:

more than 450 miles of shoreline



On December 7, 2007, a barge carrying a crane hit the oil tanker Hebei Spirit off the west coast of South Korea. The crane punctured tanks 1, 3, and 5 on the port side of the tanker causing the spill of an estimated 12,547 tons of three different types of crude oil: United Arab Emirates Upper Zakum, Kuwait Export Crude, and Iranian Heavy Crude.

The ship was at anchor in the Yellow Sea approximately six miles off the coast Taean County in the province of Chungnam, which contain popular tourist destinations, important aquaculture operations and migratory bird habitats. Weather conditions immediately after the collision were poor, with gale-force winds from the northwest and 13 foot (4 meter) waves pushing the oil to the south.

Eventually, more than 90 miles of coastline were identified as having been impacted ten days later. Two-dimensional gas chromatography (GCxGC) helped identify and distinguish oil from the three different tanks that leaked oil into the water.