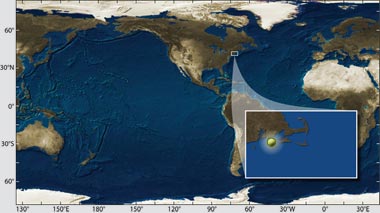 Location: Buzzards Bay off Westport, Mass.
Date: April 27, 2003

Lat./Long.:

41°29'22.10"N, 70°59'17.80"W

Material spilled:

No. 6 fuel oil

Amount spilled:

approx. 98,000 gallons

Spill extent:

more than 90 miles of shoreline



On April 27, 2003, the tank barge Bouchard 120 was delivering oil to a power plant on the Cape Cod Canal when it passed on the wrong side of a navigational marker at the entrance of Buzzards Bay and struck rocks south of Westport, Mass. The resulting 12-foot gash on the bottom of the hull released an estimated 98,000 gallons of Number 6 fuel oil into the water.

A large portion of the released oil washed ashore at Barneys Joy beach in Dartmouth the next day, but because of shifting winds and rough seas in the days following the spill, oil continued to wash ashore for more than two weeks, eventually oiling more than 90 miles of shoreline.

Early research showed that several groups of hydrocarbon compounds were initially lost to evaporation, water washing, and microbial degradation. Degradation of oil, however, appeared to stall in the first six months after the initial breakup.




From Oceanus Magazine


Oil in Our Coastal Back Yard
An oil spill on WHOI's shores set the stage for advances in the science of cleaning up




Multimedia

Bouchard 120 Oil Spill
Images from the 2003 oil spill in Buzzards Bay, Mass.