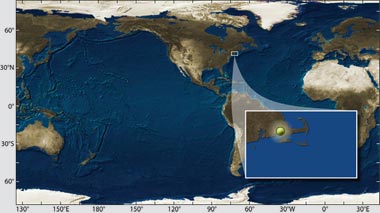 Location: Buzzards Bay, near Cape Cod Canal
Date: October 9, 1974


Lat./Long.:

41°37'58.10"N, 70°43'59.09"W

Material spilled:

Diesel fuel

Amount spilled:

11,000 to 37,000 gallons

Spill extent:

**



In October 1974, the oil barge Bouchard 65 struck rocks in Buzzards Bay while being towed north to the Cape Cod Canal and was tied up at an anchorage near Windsor Cove in West Falmouth, Mass., just two miles north of the Florida oil spill in 1969. Thousands of gallons of Number 2 fuel oil subsequently leaked from the barge, some of which ended up on the shoreline of the cove as well as on Bassets Island and in Red Brook Harbor.

Building on their experience with the previous spill, WHOI researchers measured and chronicled the 1974 spill for comparison with the 1969 event, as both involved the same type of fuel and neighboring but somewhat different shorelines. Over the years, several generations of researchers have found that oil at Winsor Cove from the Bouchard 65 spill also continues to persist in sediments beneath the surface and that chemicals from the spilled material continue to affect the structure and function of the coastal ecosystem.


Publications
Peacock EE, GR Hampson, and RD Nelson RK, et al., "The 1974 spill of the Bouchard 65 oil barge: Petroleum hydrocarbons persist in Winsor Cove salt marsh sediments," Marine Pollution Bulletin 54(2007):214-225.

Hampson, G, "Destruction and recovery of the Winsor Cove, Cataumet, MA, salt marsh from a #2 fuel oil spill: A 25 year history," Environment Cape Cod 3(2000): 32-39


From Oceanus Magazine


Oil in Our Coastal Back Yard
An oil spill on WHOI's shores set the stage for advances in the science of cleaning up