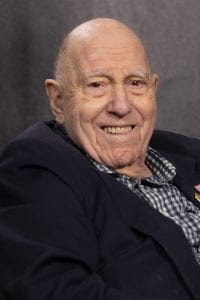 The Woods Hole Oceanographic Institution announces with great sorrow the death of WHOI Member of the Corporation, Denman Kittredge McNear, of natural causes on January 5 at his assisted living residence in Bethesda, MD. He was 95.
Denman, or Mac, DK, Denny to his various friends and colleagues over the years, was born on July 20, 1925, in Petaluma, California to Ezekiel Denman and Mary Kittredge McNear. He was the great-grandson of John McNear who moved to Petaluma in the 1850s and the grandson of George P McNear, both who helped create and build an array of successful businesses and local institutions in early Sonoma county.
Unlike his father and grandfather, Denman never desired to continue in the family feed business but heeded the call inspired by his maternal grandfather, a Chief Engineer of the New York Central, to pursue railroads. Upon graduating from Tamalpais Academy in San Rafael in 1942, he enrolled in the Massachusetts Institute of Technology to pursue a degree in Civil Engineering.
After two years at MIT, he enlisted in the United States Navy in 1944 and was trained and served as a Radio Technician, 2nd Class, where he was deployed in the Pacific as the war ended. Upon completing his service with the Navy in 1946, he returned to MIT to complete his BS in Civil Engineering and graduated in 1948.
In 1948, he applied to and went to work for Southern Pacific Railroad, the company for which he would work his entire career. He began as Rodman in the Sacramento Division while attending and completing his MBA at Stanford University in 1950. He moved his way up and around Southern Pacific for the next ten-plus years, serving as an Assistant Division Engineer, Construction Engineer, and Trainmaster in places such as Soda Springs CA, Tucumcari, NM, and Portland, OR before becoming the Division Superintendent of the Rio Grande Division and stationed in El Paso, Texas. In 1961 he was transferred to SP's headquarters, where he would remain the rest of his career. He was steadily promoted from Assistant to the President to being a Vice President, and then President of the Transportation Company in 1976. In 1982 he became Chairman and CEO of Southern Pacific Transportation Company until it was acquired by Rio Grande Industries, when he became Vice-Chairman of Rio Grande Industries, Chairman of SP Telecom (SPRINT), and Director of SPTCo. He retired in 1990.
It was in El Paso where he was introduced to Susan Anderson, the daughter of May Daugherty Anderson and Paul Hopkins Anderson. They married in 1962 and moved to San Francisco and then Kentfield, in Marin County, where they would live and bring up their three sons and many dogs until their divorce in 1991. During these years in Kentfield, Denman and Susan greatly enjoyed raising their sons, where in addition to the demands of his career, Denman was an active, involved, supportive father, going on family hikes and bike rides, attending myriad school and sporting events, and delighting in various social engagements with an array of fantastic, longtime friends from the many periods of his life. He and his family also relished countless trips, ranging from Lake Powell to Alaska, Hawaii to an East Coast tour, as well as summer and winter vacations in Sonoma and Tahoe.
After his divorce and retirement, he reconnected with Babs Gaillard, an old friend, and widow of a college fraternity brother. An instant bond and affection was developed between them, and they soon began a cherished late chapter in their lives, marrying in 1995 at Babs' home on Gibson Island in Maryland. For the next 17 years, they enjoyed their wonderful marriage and spent their time living in Kentfield and at Babs' family homes in Maryland and Cape Cod. They treasured time with both his and her children and their families, as well as many wonderful travels to Scotland, the Galapagos, Canyonlands, Yosemite, Africa, Iceland, the Panama Canal, and numerous others.
Babs passed in 2012, and Denman decided to live full-time in Bethesda, Maryland at Fox Hill, an assisted living community, where he would be near his two children, Denman and Stephen, and other friends in the area. He still enjoyed trips to California to visit his oldest and dearest friends, time with Babs' family in Cape Cod and Vermont, along with Thanksgiving in Baltimore with his three sons, their partners, and his grandchildren.
Throughout his life, Denman supported many organizations and charities with caring effort and time. Especially important to him were his alma mater, MIT, and his fraternity, Chi Phi, along with The Boy Scouts of America, Junior Achievement, the California Chamber of Commerce, and the Bohemian Club. With Babs, he also became an active supporter of Woods Hole Oceanographic Institution, Mount Vernon, the Yosemite Conservancy, and Colonial Williamsburg. In his free time, he loved tennis, skiing, and golf with his many friends and family.
In Memory of Denman, please consider making a gift to MIT, Woods Hole, or the Yosemite Conservancy. His remains will be interred in both East Dennis on Cape Cod with Babs as well as in Petaluma in the McNear family plot. Memorial services in California and the East are to be determined and planned when travel and gatherings become more safe and practical.
He is survived by his three children, Denman McNear Jr, Stephen McNear, and George McNear, his grandchildren, Sam and Rachel McNear, his first wife Susan Anderson McNear, and the children, grandchildren, and great-grandchild of his deceased second wife, Barbara "Babs" Stanton Gaillard McNear. His sister Mary McNear McNab passed in 1985, and Denman was a proud uncle to his three nephews, Jay, Alex, and Stewart McNab.
Information for this obituary is from The San Francisco Chronicle