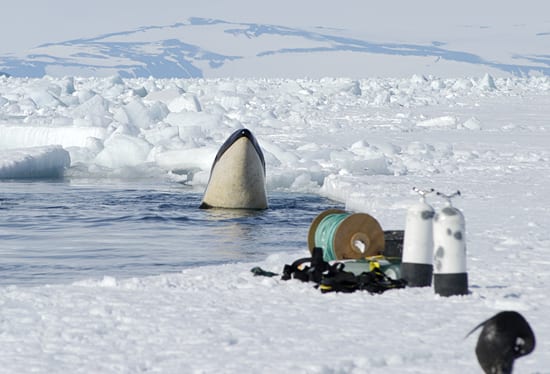 Spy-hopping
August 16, 2009
Orcas (Orcinus orca), also called Killer Whales, sometimes spy-hop — hold their heads and upper bodies out
of the water to look for prey. This Orca bides his time as a lone
Adélie penguin (in the foreground) hides behind research equipment on the
McMurdo Sound sea ice in Antarctica.

(Photo by Mak Saito, Woods Hole Oceanographic Institution)
Image and Visual Licensing
WHOI copyright digital assets (stills and video) contained on this website can be licensed for non-commercial use upon request and approval. Please contact WHOI Digital Assets at images@whoi.edu or (508) 289-2647.