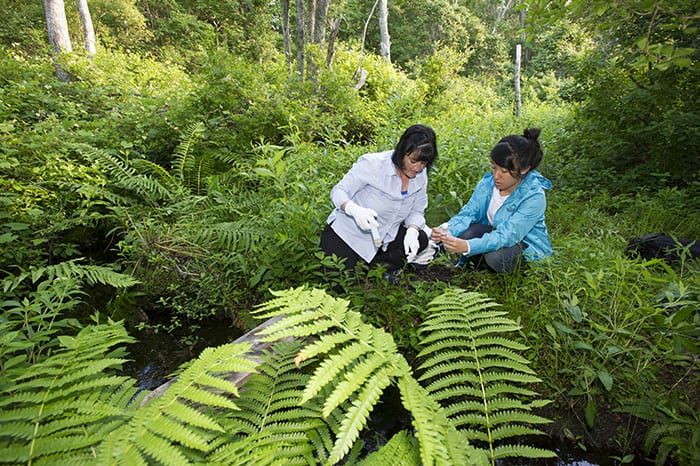 Mercury Rising?
July 24, 2015
Every summer, up to 15 college students get to work side-by-side with WHOI researchers as part of the Partnership Education Program (PEP), a program founded by six science institutions in Woods Hole. Here, PEP student Kelly Luis (right) and Lamborg Lab postdoctoral scholar Priya Ganguli collect water samples in Mosquito Creek, a groundwater-fed tributary to Oyster Pond, near WHOI's Quissett Campus. In some places on Cape Cod, researchers have found relatively high concentrations of mercury, which they suspect comes from septic systems or aquifer sediments. Studies like these can help better manage coastal ecosystems that have been impacted by residential development.(Photo by Tom Kleindinst, Woods Hole Oceanographic Institution)
Image and Visual Licensing
WHOI copyright digital assets (stills and video) contained on this website can be licensed for non-commercial use upon request and approval. Please contact WHOI Digital Assets at images@whoi.edu or (508) 289-2647.