Events & Happenings
Featured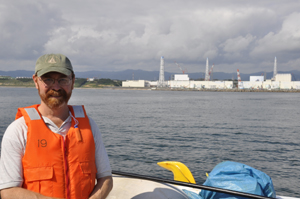 February 23, 2015
6:30 - 8:30 p.m.
Principle Pictures, Boston, MA
Month
Week
Day
Calendar of Events

» View Woods Hole Community Events
Remembering Fukushima: Four Years On
6:30 PM – 8:30 PM • Principle Pictures, 535 Albany Street, Unit 2A, Boston, Mass.
Featuring WHOI's Ken Buesseler
Nearly four years after the Fukushima Dai-ichi nuclear power plant accident in Japan, the country is still recovering and rebuilding from the disaster.
In 2014, WHOI marine chemist Ken Buesseler launched the
Institution's first-ever crowdsourcing campaign, Our Radioactive Ocean, to monitor radioactivity as it made its way across the
Pacific Ocean toward the United States. In November, he detected the first traces of radioactive material 100 miles west of Eureka, California, with the help of citizen scientists.
On Monday, February 23, Dr. Buesseler will join a panel of experts to talk about his work, the progress made, and the challenges that remain, for Japan since the disaster in March, 2011.
The evening will include a panel discussion, traditional Japanese music and a sneak peak of the new documentary, Son of Saichi, produced by event host, Principle Pictures.
Cost: An optional donation for this event is $25.
All are welcome; no need to RSVP
Questions? Contact Annamarie Behring at (508) 289-3647 or at abehring@whoi.edu
Principle Pictures is a documentary film company committed to creating lasting social impact and helping nonprofits tell their stories. Their series, Principle Matters, is a place where people from academia, industry and the arts can exchange ideas about pressing human rights, social, and cultural issues of our time.
Harambee
4:00 PM • Swope Center
Special Black History Month Celebration
(Join us at our annual ethnic potluck feast celebrating everyone of every race! Enjoy multicultural arts, delicious food, and live music)
Other Events and Notes of Interest