EuroSTRATAFORM
About | Sampling & Analysis | Results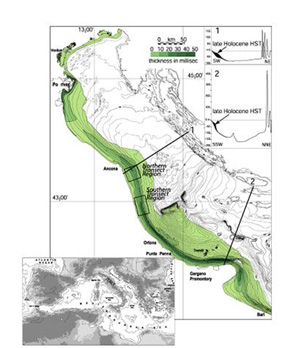 The Western Adriatic Sea is an excellent environment for investigating the formation of clinoforms. The stratigraphy reveals a long, continuous clinoform, extending much of the length of the western Adriatic margin, from Ancona to the Gargano Penninsula (Fig. 1). This feature is co-located with a zone of rapid, recent sediment deposition, based on adionuclide measurements (Alvisi and Frignani, 1996), indicating that this clinoform is actively growing. Thus, the western Adriatic provides an opportunity to examine the transport processes that feed the growth of a clinoform in conjunction with studies of the sedimentology and stratigraphy, leading to an understanding of the mechanisms responsible for its morphology and predictions of stratal evolution.

The objectives of the EuroSTRATAFORM project are grouped into four main themes:
1) Plume and coastal current transport: What are the relative contributions of local and remote supplies of sediment to the Apennine clinoform development? What are the relative roles of buoyancy and wind forcing on the far-field transport of Po sediments? How far offshore is sediment transported in the Apennine plumes?
2) Inner shelf sediment trapping: Does frontal convergence in the coastal current provide a means of focusing sediment? Does wave-induced resuspension lead to high concentrations in the wave boundary layer? Do these processes interact to yield fluid-mud concentrations capable of gravity-driven transport? Do intermittent inputs from the Apennine rivers provide a source for inner-shelf trapping?
3) Cross-shelf transport processes: What are the relative roles of ambient currents and hyperpycnal, gravity-driven flows in transporting sediment from the inner shelf to the depositional zones?
4) Strata formation and bed preservation: How do cross-shelf gradients in bottom turbulence intensity influence the magnitude of sediment supply and the potential for preservation of sediment deposits?