Special Features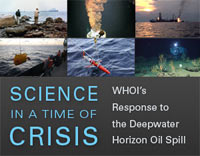 Science in a Time of Crisis
WHOI's Response to the Deepwater Horizon Oil Spill
A multimedia project featuring scientists and engineers who continued the Woods Hole Oceanographic Institution legacy of oil spill research by providing an objective insight into the immediate and potential impacts of the Deepwater Horizon spill in the Gulf of Mexico.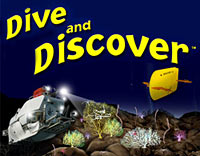 Dive and Discover's Expedition to the Gulf of Mexico
From December 6-15, 2010, the Dive & Discover team explored the bottom of the Gulf of Mexico with Alvin and Sentry.


Image Galleries

Images from the Gulf

Bouchard 120 Oil Spill
Images from the 2003 oil spill in Buzzards Bay, Mass.



Santa Barbara Oil Seeps
Research study seeps off the coast of California.


Videos

What Happens When Oil Spills


Marine Chemist Christopher Reddy describes his work on oil spills and the long term fate of oil after the spill.
» View Video (Quicktime)
» View Video (Media Player)



Seafloor Oil Seep


Dave Valentine and his scuba-diving team at the University of California Santa Barbara collected oil leaking from a seafloor seep. The white material clinging to the seafloor is made of filamentous microbes that probably use the oil as food.
» View Video (Quicktime)



Press Conference: August 19, 2010


WHOI researchers presented the results of research conducted in the Gulf of Mexico aboard the research vessel Endeavor to assembled group of reporters at the National Press Club in Washington, D.C. .
» View Video (Quicktime)



Public Forum: WHOI in the Gulf of Mexico
On Thursday, July 29, 2010 the Woods Hole Oceanographic Institution invited all to a
community forum to discuss the Gulf Oil spill.



Lessons from an Old Oil Spill
From The New York Times


Audio Slideshows


Research Road Trip
Bryan James, a volunteer in a research lab at WHOI, tells how he spent part of his summer vacation—on a whirlwind journey scouring Gulf of Mexico beaches to look for samples from the Deepwater Horizon oil spill.





Asphalt Volcanoes on the Seafloor
An audio slideshow: Join scientists as they discover that mysterious mounds on the seafloor near Santa Barbara, Calif., are the remnants of ancient asphalt volcanoes. And read an interview with them.