Contending Ideologies of "Subjugation Through Education" or "Knowledge is Power" - Which one would you choose?

Elizabeth Rexford



September 24th

On my last day aboard the Healy, I began to ponder once again about the role education, knowledge, and its contributions to sound environmental governance for Northern communities. We have reached the end of our science trip aboard the Healy, but this is only the beginning of my "ocean education." I have gained a plethora of insights in the previous two and a half weeks, in a once-in-a-lifetime experience. The last couple of weeks have undoubtedly opened a unique window of opportunity, allowing me to both grasp a greater understanding of the basics of ocean science at ground zero and a chance to build experiences to draw on in the future. Many of us have heard the saying "knowledge is power" or its many versions, which is a concept taken most closely to heart in areas receiving the short end of the leverage stick in the arena of governance and community life. After reading the following paragraphs, you can begin to ask yourself if the education you received in life was intended as either "subjugation through education" or as a granting of tools necessary for reconstructing a reality that works better for the lifestyle you live. To those who apply the concept of knowledge as power (even after being exposed to attempted subjugation) to notable selfless causes such as improvement of areas in society formerly plagued with disparities– may they prosper and live a good life. Although some of the quotes below were taken from an independent study conducted during my senior year at Dartmouth, the following piece was written while aboard the Healy.

---

My grandmother grew up along the Colville River, more specifically between the Oliktok River (a tributary river to the Colville), the neighboring inland mountains, and along the coastal modern-day Colville River delta. As the oldest of at least fourteen siblings, my aaka hunted and whaled with her father and sewed clothing and constructed necessary tools with her mother. She lived in the Colville River area before the oil fields existed and the village of Nuiqsuit officially became a village. Her family had survived at a time before English was a dominant language and manufactured goods were available. My aaka described the first experience of flour around the age of fourteen – people dumped the seemingly useless white powder out and used the cloth cases for articles of clothing or materials to sew with. At this time my aaka's father embraced various beliefs and concepts carried in Christianity, as did my aaka.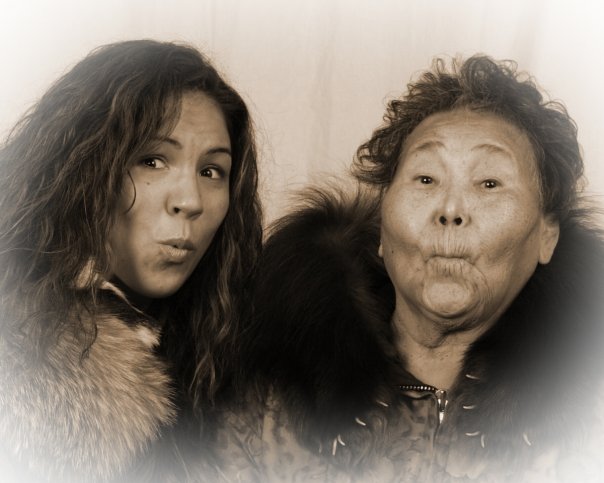 Around the age of fourteen, my aaka said that they were given a choice of either attending school or going to jail. "Go to school or go to jail" became the prevailing slogan of this time. They were forced out of the Colville River and Nuiqsuit, which later became the home of the largest oil field discovery in North America. Many families across the North Slope like my aaka's were relocated to Barrow so the children could attend the Presbyterian mission school, later funded by the Bureau of Indian Affairs (BIA).
The value Eskimos attach to education is staggering… the desire for education was so strong that it brought Eskimos from all over the Arctic Slope to Barrow so that their children could go to school. "People came from Nooiksut, Atkasuk, Point Lay, and Kaktovik. The price of education was leaving their family land. For instance, the Kussick family and the Cookley family moved in from Nooiksuit. That is 168 miles away from Barrow… The Smith family gave up their land in Beechey Point. Guess where that is! That is Prudhoe Bay, where the great oil find is… These families would leave their homes and come to Barrow… If it were not for the attraction of school, all these communities would still be inhabited by Eskimos on a year-round basis. When school is out at the end of May, these families go back to their family sites to hunt or fish until September… Then these families return to Barrow so that their children will be there when school starts. This is very disruptive to family life and community life, but this is how much the people value education for their children." [1]
Although the above quote, taken from Etok's book "Eskimo Power," depicts a feeling of volunteerism amongst the Inupiat families in moving to the Barrow area in order to attend the BIA school, some were forced like my aaka's.
My aaka attended the Presbyterian/BIA school in Barrow for one year. After that year, her father pulled her out of the school predominately because engrained in ideology of the BIA education system lied a fundamental and insurmountable contradiction – the lifestyle, language and beliefs of the Eskimo were deemed backward, while English, industrialism and Christianity were taught to be the only ways to prosper within a new and western-dominated world. The mission of the first western schools created for Alaska Natives was "the general uplifting of the whole population out of barbarism into civilization" through English literacy, cleanliness, industry and Christianity. In 1867 several religious denominations had established missionary schools throughout Alaska, including the Presbyterian Church in Barrow. The first Presbyterian mission school was created in Barrow through Sheldon Jackson, appointed the General Agent of Education for Alaska in 1885. Although the Federal Government took over Native education policy through the Bureau of Indian Affairs (BIA), the same subjugating mindset continued. My aaka learned enough to speak and read English, and then moved on. She took the tools needed and applied them during the rest of her life. Some people moved to Canada while others moved north to Barrow. My aaka's family refused the BIA school system after a year and continued to live off the land, later to work in the oil fields when the pipeline was being built. The Eskimo was not given much leverage at that time.
Many Inupiaq families wanted what was best for their children, which often meant relocating hundreds of miles to learn about the new culture and language, later to find out that their home was the location of a major oil field. Arguably, also the most significant event in the history of Alaska as a State is the discovery of oil in Prudhoe Bay in March of 1968. This discovery solidified the formation of the most recent State in the Union and is paramount for Alaska's existence because of the significant amount of money brought into the State and Federal governments as a result. Knowledge of some of the locations of oil seepages in Alaska and drilling of exploratory wells have been around for at least one hundred years, but the official discovery of the potential production value of Prudhoe Bay came in the late 1960s. This discovery has significantly contributed to the fiscal health of the state, supplying an average 84% of the state's unrestricted general fund since the Trans Alaska Pipeline's completion in 1977. Prudhoe Bay also supplies about 20% of domestic oil for the United States according to the Alaska Oil and Gas Association.
Back to the systemic Native education of the time – if the teachers considered a child bright enough in the BIA village schools such as the one in Barrow, he or she was then sent off to a boarding school thousands of miles away as early as the sixth grade, and even earlier. Etok also notes further contradictions within the Native boarding school system:
It is what they see. They come from very poor families in very small, very remote, very poor villages. They come from subsistence living, from hunting wild animals for food, searching driftwood for warmth. Their values are ideal for their life. Their self respect is intact. They have dignity… a rightful place in the world… The Eskimo is not intentionally taught to feel inferior by his teachers at Wrangell or Mount Edgecumbe. His teachers… protest they are attempting to prepare him to live so that he can cope with the modern world, so that he can function as a full-bodied citizen with all the rights, privileges and duties of any other citizen in the white Western industrialized society of America. The schools fail. The BIA student often cannot cope in American society nor can he return content to the village. BIA schools fail… because they are too good… like all other American suburban schools with their cheerleaders, their homecoming games and dances. The contrast between village life and suburbia is too great. The children see it. They see that suburbia is nicer than village life, yet they know that in the end suburbia will be denied them. They know… that school is a cruel hoax and that they will return soon enough to seal meat and driftwood fires… in the end, they convince the Eskimo child that he is trash. That his family is trash. That his village is trash. That his culture is trash…he was reprimanded for speaking Eskimo to his Eskimo classmates… students were whipped if they were caught speaking their Native language. Charlie was told once, "If you want to be an Indian all your life, nothing but a salmon cruncher, just keep talking Indian. You can just go back to the village and rot for the rest of your life. But if you want to amount to something, if you want to grow up and hold a job as a secretary or a laborer and make good money and live like a white man, then you had better listen to what I am teaching you, and start speaking English." … very few teachers were that honest. Most of his teachers would deny – even to themselves - that they felt this way. They were as blind and as well motivated as the missionaries, who can see what they build yet have no comprehension of what they destroy… The whole educational process offered by BIA teaches Indians to despise what they are and where they are from, and to hate what they are not and will never be: white men… When Congress determined in the late 1800's that it was costing about one and a half million dollars to kill an Indian, it said to the War Department there must be a better way. That way was 'subjugation by education.' And this attempt to annihilate Indian culture through assimilation is still going on… The tragedy is not that he has been taught that he is worthless, the tragedy is that he believes it. He tries to drink himself to death. [2]
The smart ones were sent over a thousand miles away! As Etok points out, people who once lived with the values that fit their life, with self-respect and dignity intact, and who grew up knowing they had a rightful place in the world now had a different reality. Some teachers and education providers were blind to what lifestyle and epistemological assumptions they were destroying. The system inevitably taught kids that their lifestyle was no good, but they would soon find out that the American lifestyle being exposing to them was out of reach.
Joseph Upicksoun, who previously attended the BIA school at Point Lay, left his home in the early 1940s for a boarding school that was several hundred miles away at age 11 in order to obtain a higher education. Almost a decade later in Barrow, Etok graduated from the sixth grade and went onto the only other option available to continue school –Wrangell Institute 1,200 miles away in southeast Alaska. He remembers children as young as five years old arriving at Wrangell "if boarding accommodations could not be found for them in towns closer to their homes" and nineteen-year-olds still in the fifth and sixth grades for the same reason. Etok remembers the most detrimental experiences during this time being the lack of love and counseling.
My most damaging experience at Wrangell institute and also at Mount Edgecombe was going to school without love. Never before had I been without the love of my parents my brothers and sisters and my many barrow relatives. The only thing that we barrow boys had was each other. What was really sad was when my cousins' mother died and the bureau of Indian affairs did not even have the dignity to send these two students home to the funeral. We all suffered from their experience because the environment was so compact and close that it happened to us all. When you are a boy and you cannot even talk to a counselor when your mother has died, you utilized one of the guys who is closest to you and talk to him. It was a pretty damaging experience for all of us. [3]
Wrangell was only one of the dozens of boarding schools to which Alaska Native children were sent. Other boarding schools attended by children from Northern Alaska included Mt. Edgecumbe in Sitka, St. Mary's, Copper Center in southeastern interior Alaska, and Chemawa in Oregon among others. These experiences affected Etok, as with the thousands of other Native children that were sent out to these schools.
Another Inupiaq person who never experienced the 'subjugation by education,' like my aaka, was Eben Hopson. Even though higher education was one of his greatest desires, Hopson was denied the option of education past sixth grade in the mid-1930s because he sent a letter to the BIA Superintendant in Juneau while in elementary school, condemning the BIA elementary school teachers for using unpaid child labor. Hopson noted that the families in the area had little or no money, and the teachers new to the area thought it would be nice to have the Barrow children build sidewalks between the teachers' houses. As a result, the principal denied him entry into higher education when his chance came around, despite his brilliance and high test scores. Despite missing out on his chance to go through the system purported to be a subjugating experience, Hopson later became the Executive Director of the Arctic Slope Native Association, one of the first founding State Senators for the State of Alaska, special assistant to the Governor, founder of the Inuit Circumpolar Conference and also known for other notable movements. Hopson was one Inupiaq person who did not receive a formal education like my aaka, but used the knowledge that he gained later in life to set up one of the more brilliant governance structures – heavily fought by industry and outside government officials – the North Slope Borough. Eben Hopson's acquired knowledge of Borough laws and his influence on the formation of zoning and taxing powers through the North Slope Borough helped the Inupiat people of the North Slope to leverage bonds needed for community improvement projects and to zone out certain lands for development scenarios.
Native peoples are amongst the most heavily impacted groups of people in the history of the United States, including the Inupiaq. Memories of how they were treated by State and Federal governments were branded in the collective psyche of these people for generations to come. These memories resurface as new governments force new development scenarios onto these communities. Two of the biggest impacts felt amongst the Inupiaq community of northern Alaska are changes to formal education and increasing risks of pollution and degradation to prime hunting lands. The responses from the community to these impacts have been development of an education system that adjusts to the changing times and activism to protect important lands from certain natural resource development.
Within the greater paradigm of Federal Indian policy and history, Hopson's and my aaka's experiences are two that could seen as being left out of the "kill the Indian, save the man" ideology that had long been propagated towards many young Native people of their generations and the preceding generations on the mainland United States. Their experiences are only a couple of many, but the young Inupiaq people of their generation all shared similar experiences as the Federal and State Governments had intended. In the end, it all depends on how you look at it and what your filter lets in – will you allow your experience to follow along the lines of intended 'subjugation through education' or 'knowledge is power?' Experience is in the eye of the beholder and the eye is the lamp of the body. The choice is yours.
---
[1] Eskimo Power 64-65.
[2] Eskimo Power 76-80.
[3] Eskimo Power 75-76.