Development and Uncertainty

Elizabeth Rexford



September 8th
Scientific uncertainty of specific offshore oil development scenarios in the Beaufort and Chukchi Seas (championed by State and Federal proponents) have brought on new tensions in a community commonly bounded together by whaling, hunting, family and a sense of giving. Within the greater American political and economic system, we must all reexamine our underlying views of development and see what we can adopt and apply to our communities that will move us in the right direction. From an Inupiaq perspective we must additionally ask what will bring the right changes to our Inupiaq homeland and lifestyle. Two quotes come to mind when searching for a balance between economic gain and protection of land and culture. Inupiaq communities from the Northwest Arctic Borough and North Slope Borough came together to discuss economic development in 2007. Mayor Edward Itta and former Assembly President Jacob Adams of the North Slope Borough spoke up on the topics of balancing development projects regarding our resources.
"It's all about balance. We look at the potential benefits of a project and compare them to any potential harm to our subsistence wildlife populations or habitat that could result. If we don't think it looks like a good balance, then we try to get changes that will make it acceptable. If we cannot find an acceptable compromise, then we oppose." ~Edward Itta, Mayor, North Slope Borough 2007
"If we do not make decisions about resource development for ourselves, someone else will." ~Jacob Adams, former Assembly President, North Slope Borough, 2007
Development affecting our Northern Inupiaq Communities requires us at times to think from two contending ideologies in environmental governance and development – how will we survive in a cash economy that is based predominantly in resource extraction and at the same time in a culture that is originally based in epistemological assumptions originating from peaceful coexistence with the land and animals surrounding us. We now have scientists to add to our baseline of knowledge where gaps of uncertainty for new development scenarios previously existed. We must be partners if we are both to progress in the future.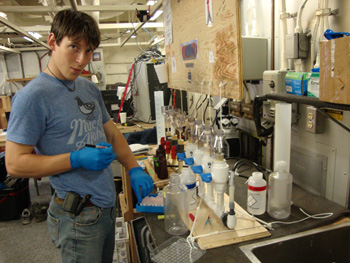 Zach in the lab.
Although seasickness struck me for hopefully the last time, I joined some of the science teams after lunch. We watched the Icebreaker Healy crew run their 'Crew Olympics,' where the crewmembers racked up points at stations throughout the six-story boat carrying out drills pertaining to boat safety. I soon joined Zach Brown, who is a second-year PhD student at Stanford University. He is doing a comparative study on the phytoplankton from the Atlantic and Pacific Oceans. This part of the Arctic is one of the few places where the Pacific and Atlantic Ocean waters meet
To collect his samples, Zach uses water collected from a device called a "Rosette". The Rosette contains big plastic bottles arranged around a circular frame. The package is lowered from the ship to just a few meters off the bottom to obtain a vertical profile of temperature and other variables. Then, as the Rosette is pulled back to the surface, Zach and his colleagues decide where to close each of the bottles. On this day Zach was joined by Ben Harden, a graduate student from the University of East Anglia in the UK, and Natalie Monacci, a technician from the University of Alaska in Fairbanks. Ben 'fired' the button to close the bottles, and Natalie recorded the information. Zach took only three samples during this set of casts and subsequently ran the water through filters
The information gained from this seemingly simple task will contribute to a body of knowledge on phytoplankton and chlorophyll in relation to their ocean environments. This is only one aspect of a plethora of knowledge that can help us understand this northern Arctic area.
| | |
| --- | --- |
| | |
| The Rosette on deck. | Rosette in the wet lab. |