Meet the team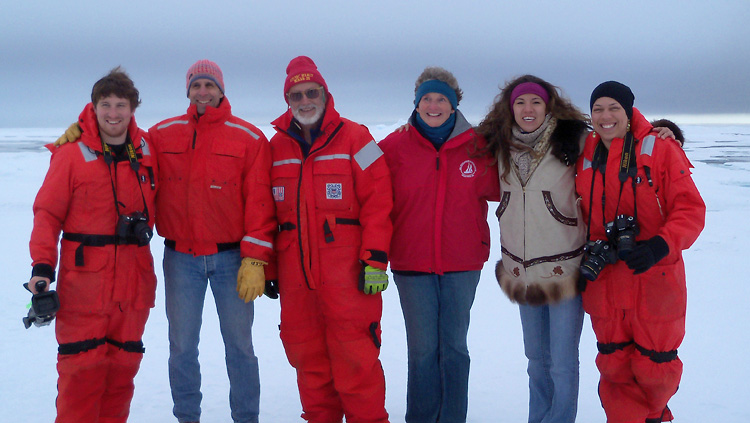 Meet the outreach team (from left to right): Ben Harden, Bob Pickart, Dallas Murphy, Pat Keoughan, Elizabeth Rexford, Rachel Fletcher.





Dallas Murphy




I've published four novels, two plays, and two nonfiction books, Rounding the Horn and To Follow the Water. Researching the latter, I discovered physical oceanography. I've been captivated by the ocean since childhood, and I've been to sea in small sailboats, including high-latitude trips to Spitsbergen, East Greenland, Iceland, and Cape Horn (this summer I circumnavigated Newfoundland), but I'd never been to sea aboard research vessels, never thought about the ocean in scientific terms until 2005. Those experiences changed my life as a writer.

In 2008 I met Bob Pickart. With photographer and web designer Chris Linder, we collaborated on an outreach project for Bob's Irminger Sea Expedition aboard r/v Knorr that the NSF called "a model outreach program." (www.whoi.edu/cruise/irmingersea) It's a pleasure and a privilege working with a scientist of his stature who is genuinely interested in talking to the public about the wonders of the ocean. In these confused and troubled times, that seems an important endeavor. I'm delighted to renew our collaboration on this Western Arctic cruise. And in October 2011, we'll return to the Irminger Sea.

I remain committed to the science and its subject. In April 2010, I did similar outreach work on Dr. Lisa Beal's (RSMAS) Agulhas Current Timeseries. Next summer, I'll go to eastern Siberia with Dr. Max Holmes and his Polaris Project.

I teach writing workshops for grad students and post-docs at the Max Planck Institute, RSMAS, and the University of Hamburg.





Rachel Fletcher


Rachel Fletcher comes to the Healy by way of Knoxville, Tennessee where she is currently employed at the University of Tennessee's Theatre department as a Properties Artisan. Growing up in St. Louis, Missouri and graduating from Millilkin University in Decatur, Illinois, with a B.A. in Communications, she has a long and diverse history in the visual and performing arts. Rachel is also a professional upholsterer and runs her own shop at Knox Upholstery in Knoxville, Tennessee. She is thrilled to be charged with documenting this journey.




Elizabeth Rexford


I recently finished up my undergraduate studies at Dartmouth College in Environmental Studies, where I played rugby and water polo. My senior project included examining the history of OCS lease sales in the Beaufort and Chukchi Seas, and taking part in the COP 15 discussions on the topic of climate change in Copenhagen last December. I found the topic to be rather interesting, so I look forward to the opportunity of fulfilling the role of the Community Observer. I grew up in Barrow and Fairbanks, Alaska and will be applying to graduate schools after the cruise. I thank all of the science crew members' for all of their patience in taking time to explain their projects in depth.



Pat Keoughan


I taught in public elementary education, grades 4-8, for forty years before I retired in 2009. My career started in suburban New York. I moved to Falmouth on Cape Cod having fallen in love with the area after participating in the Sea Education Association's (SEA) Sea Semester in 1980. I spent six weeks at sea aboard the SSV WESTWARD doing oceanographic research, applying what was learned ashore in Woods Hole. I was hooked on marine science!

Waiting for an opening in the Falmouth school system, I took a one year position teaching the children of GE employees living in Spain while constructing a nuclear power plant in a small city near Valencia. I finished my career teaching fifth grade in Morse Pond School in Falmouth.

Living so close to SEA and Woods Hole afforded unique teaching and learning opportunities. Along with other teachers in my school, I took advantage of scientist parents and volunteers willing to come in and show our students what they do. Each year I buddied my students up with students in an SEA class. They would interview them about the projects they planned to do while at sea then we'd follow them during their cruise.

I had the privilege of taking a two week course on microbiology at the Marine Biological Laboratory, a three week course with SEA and many day long courses at WHOI, all geared to teachers. WHSTEP, an organization dedicated to melding the science and education in the Woods Hole area provided teacher field trips to USGS and the National Marine Fisheries as well as WHOI and the MBL.

I have always been an adventure junkie and thought my adventuring days were over . During my last year teaching, my class and I followed Bob Pickart's cruise in the Irminger Sea aboard the Knorr. That experience led to this position. There is adventure after retiring!





Ben Harden


I am a third year PhD student at the University of East Anglia, UK. By training I'm a pure physicist but I made the small leap to meteorology after finishing my undergraduate degree and I haven't regretted it for a moment. Two years ago, I spent 30 days in the Irminger Sea (between Iceland and Greenland) with Dr. Bob. I was launching weather balloons during intense storms that pass through the region, trying to understanding how they occur and develop as we were being tossed in 10 meter waves below. This was a fantastic (and slightly scary) experience, one that I never imagined I would have when starting out studying physics at university. It is not only the atmosphere that interests me though, I also take a keen interest in the ocean; part of my thesis will be about what impacts winds can have on the ocean which is a very important process to understand.

On the Healy I will not only be helping with the CTD operations on the boat (that is measuring the physical properties and currents in the ocean) but I will be documenting the cruise on video with the aim of producing a small documentary about science and life aboard the Healy on my return. As part of this, I will be putting short clips up on to the website for you to get a flavour of what's happening on the ship.