Why Planned Gifts Work for Us
Carl and Pancha Peterson: Charitable Gift Annuities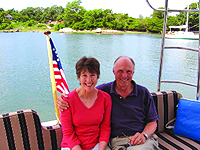 When Carl Peterson retired in 2002, there was little doubt that he would become involved in the life and leadership of WHOI. Raised in Falmouth, Carl's youth had been framed in WHOI associations. Not only were his friends often the children of scientists, but his father had been a close friend of Admiral Edward Smith, WHOI's third Director. And though his own career would take him in different directions, he found the time to serve the community.
"In the early eighties, WHOI was looking for the next generation of Corporation members. I remember that Carol Wilson was a Trustee then as well as Guy Nichols. I ended up serving two six-year terms. Guy was a strong advocate of the Fye Society and encouraged us to become members."
Fast forward to 2002, Carl and Pancha knew that they wanted to become reconnected with WHOI.
"I have always been an advocate of the education offered at WHOI and was especially interested in the summer student fellowship program. We decided that that was where we wanted to lend support. I also liked the idea of using a charitable gift annuity to provide support because it made a number of objectives possible. We were able to generate additional income for our retirement, income that is guaranteed and is not affected by the ups and downs of the market. Equally important, I know that my annuity will provide WHOI with funds for a program that is important to my wife and to me. Lesley Reilly, Director of Planned Giving, helped us work through the details."
Dr. Cecily Cannan Selby: A Gift of Real Estate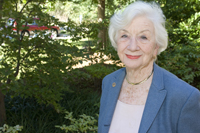 There are few so able to articulate the unique qualities of the Woods Hole community as Dr. Cecily Cannan Selby.
"My father was an MBL scientist and the summers of my youth were spent here. Woods Hole, more than any other place, exemplifies the acculturation of science into an entire community, the melding of all cultures."
As a trustee serving on Education and Diversity committees, Dr. Selby also brings passion and perspective from her career as a research scientist and as a science educator. Cecily was a founding member of the Fye Society, arranging that under her will the beautiful Falmouth home belonging to her and her late husband, Dr. James S. Coles, will be sold and the proceeds used to support the James Coles and Cecily Selby Endowed Fund at WHOI. Dr. Coles, a devoted WHOI supporter and close friend of Paul Fye, was a trustee from 1952 until his death in 1996.
"A contribution of real estate is the only way I can make a significant gift. My husband and I did not expect the academic lives we chose to enable us to be philanthropists," she says with a smile, "so am particularly proud that I have an asset with appreciation to help maintain the leadership of WHOI, not just in oceanography, and in preparing future oceanographers, but also in promoting public engagement with science, locally and worldwide."
Mary Nefedov: Continued Support with a Bequest

"My association with the National Science Foundation involved federal support of research facilities. This put me in touch with all the academic institutions involved with oceanography. But Woods Hole Oceanographic Institution stood apart from the group because Director Paul Fye played a lead role in supporting what came to be known as UNOLS (University National Oceanographic Laboratory System), an association of ship-operating institutions committed to cooperative use of federally-supported ships. I worked very closely with WHOI staff to develop UNOLS, so I know the Institution quite well.
"In the years since, my interest in oceanography has focused on the science, which is currently so much a part of our awareness of environmental concerns. WHOI's research has never been more relevant to humanity. Who can read about the Greenland Ice Sheet and not think about polar bears and rising sea level—or earthquakes and their follow on tsunamis? These are things about which I care, and that is why I made the decision to recognize WHOI in my will."