| | |
| --- | --- |
| Freshwater Export from the Arctic | |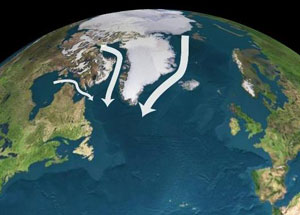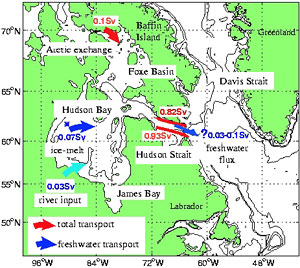 Related Multimedia

Freshwater in the North Atlantic



Freshwater is a key player in our climate system and small changes in the freshwater budget of the oceans can potentially induce large changes in our climate. This is because freshwater is lighter than seawater and it can dramatically increase the ocean's vertical stability and contribute to sea-ice formation. Changes in the freshwater flowing into the North Atlantic have been identified as one of the potential triggers for changes in the overturning circulation and in the poleward heat transport.

There are three main sources of freshwater into the North Atlantic: Fram Strait (east of Greenland), Davis Strait (west of Greenland) and Hudson Strait. Of these, the first two are major pathways connecting the fresher, ice-producing Arctic Ocean with the North Atlantic, while Hudson Strait accumulates a large riverine input from the North American continent, formation of sea-ice over the entire Hudson Bay/Foxe Basin system and a small contribution from the Arctic via Hecla and Fury Strait. A large international program, ASOF, is underway to quantify and monitor the exchange between the Atlantic and Arctic Oceans.



Freshwater from Hudson Strait


After Fram and Davis Straits, Hudson Strait is the third largest input of freshwater into the Labrador Sea (and hence the North Atlantic). Freshwater sources for this region include a large riverine input (900 cubic kilometres per year), seasonal sea-ice formation over the large inland sea that is composed of Hudson Bay, James Bay and Foxe Basin (>1 million square km), plus a contribution from the Arctic via Fury and Hecla Strait.

My research in Hudson Strait has been aimed at measuring the freshwater flow out of Hudson Strait and investigating what controls its seasonal to interannual variability.



Presentations and Posters



How do changes in river input and sea ice affect the Hudson Strait outflow? D. Sutherland, F.Straneo, S. Dery and K. Drinkwater. AGU 2008 Poster
What controls the dispersion of riverine freshwater in Hudson Bay during the summer? P. St-Laurent, F.Straneo, J.F. Dumais, D.G. Barber, ArcticNet 2008 Poster.
Does Warming of the North Atlantic over the Last Decade Explain the Acceleration of Outlet Glaciers in Southeast Greenland? Straneo, F., D. Sutherland, G.S. Hamilton, R. G. Curry, L. A. Stearns, AGU FALL 2008 Poster.
Papers
Technical Documents
A Mooring Array to Measure the Freshwater Through Hudson Strait