People Directory : Marieke Femke de Jong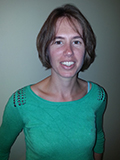 Marieke Femke de Jong
Adjunct Scientist
Physical Oceanography
Education
2010 Ph.D. Oceanography, Utrecht University, Utrecht, the Netherlands.
Research performed at the Royal Netherlands Institute for Sea Research (NIOZ), the Netherlands.
2004 M. Sc. Physics & Astronomy, Utrecht University, Utrecht, the Netherlands.
Specialization in meteorology and physical oceanography.
Research Interests
Properties and variability of the subpolar North Atlantic Ocean on a range of time scales, from decadal to meso-scale. Interesting processes in this respect are, air-sea interaction, deep convective mixing, advection by the general circulation, dense overflows and eddy shedding by boundary currents.
Research Statement
Currently working on warm cyclonic eddies, called Irminger Rings, in the Labrador Sea. Because these eddies transport warm, saline water from the boundary current into the interior of the basin, they are thought to be important in the restratification of the the Labrador Sea after winter convection.
Languages
Dutch (native), English
[back]