People Directory : Cyndy Chandler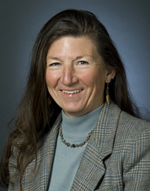 Cyndy Chandler
Oceanographer Emeritus
Marine Chemistry & Geochemistry
Office Phone: +1 508 289 2765
Fax: +1 508 289 2009
WHOI Mailing Address:
Woods Hole Oceanographic Institution
266 Woods Hole Rd.
MS# 36
Woods Hole, MA 02543-1050
Education
B.A. State University of New York at Geneseo, 1975, Zoology
Research Interests
As a member of several ocean informatics research teams, I use information systems to facilitate oceanographic research with specific focus on: database design, data management, online data systems, development of marine ontology, marine metadata standards and the use of information technology to facilitate the process by which ocean science data and information become knowledge.
Research Statement
I am currently an Information Systems Specialist in the Department of Marine Chemistry and Geochemistry. During my time at WHOI, I have participated in 18 research cruises, but my current research interests are in the field of Ocean Informatics which is the intersection of computer and information science and oceanography. I am a co-PI for the NSF OCE and PLR funded Biological and Chemical Oceanography Data Management Office (BCO DMO, http://bco-dmo.org/), Lead PI at WHOI for the Rolling Deck to Repository (R2R) project (http://www.rvdata.us), Lead PI at WHOI for the NSF EarthCube funded OceanLink and GeoLink projects (http://earthcube.org/group/geolink) and one of the US partners in the Ocean Data Interoperability Platform (ODIP) project (http://odip.org). I also provide continuing support for the U.S. JGOFS database (http://usjgofs.whoi.edu/jg/dir/jgofs/). I was elected in 2015 to a two-year term as co-chair of the International Oceanographc Data and Information Exchange (IODE, http://iode.org) of the UNESCO IOC.
Publications
for a list of publications see:
ORCID: 0000-0003-2129-1647
ResearchGate: http://www.researchgate.net/profile/Cynthia_Chandler
Researcher ID: F-5651-2012
Scopus Author ID: 14014149800
Affiliations
Member, American Society of Information Science and Technology (ASIS&T), 2003-2010
Member, The Oceanographic Society (TOS), 2010 - present
Member, Association for the Sciences of Limnology and Oceanography (ASLO), 2010 - present
Member, AGU 2005- present
Member, ACM 2007- 2012
Voting member, Earth Science Information Partners, representing BCO-DMO, December 2012 – present
Awards
Recipient of WHOI's 2008 Linda Morse-Porteous award for outstanding technical staff service and dedication to discovery and excellence
[back]