People Directory : Bernhard Peucker-Ehrenbrink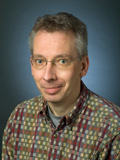 Bernhard Peucker-Ehrenbrink
Department Chair
Marine Chemistry & Geochemistry
Office Phone: +1 508 289 2518
Fax: +1 508 457 2193
WHOI Mailing Address:
Woods Hole Oceanographic Institution
266 Woods Hole Rd.
MS# 25
Woods Hole, MA 02543-1050
Education
B.S. University of Clausthal, 1985, Geology
M.S. University of Goettingen, 1989, Geology
Ph.D. Max Planck Institute for Chemistry/Geochemistry & University of Mainz, 1994, Geology
Research Interests
Chemical cycling between Earth's mantle, oceanic crust, continental crust, and seawater, and the imprint these chemical fluxes impart to the geochemistry of marine sediments as well as the isotopic composition of seawater; chemical tracers of accretion of cosmic matter on Earth; Volcanic and anthropogenic sources of platinum group elements.
[back]