People Directory : Adam Shepherd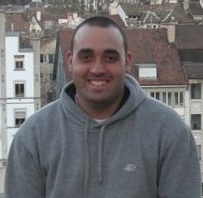 Adam Shepherd
Information Systems Associate III
Marine Chemistry & Geochemistry
Office Phone: +1 508 289 2772
Fax: +1 508 289 2009
WHOI Mailing Address:
Woods Hole Oceanographic Institution
266 Woods Hole Rd.
MS# 36
Woods Hole, MA 02543-1050
Education
B.S. Northeastern University, 2001, Computer Science
Research Interests
Linked Data, Semantic Web, Semantic Entity Pairing, RESTful Architectures, Drupal, Software Sustainability
Research Statement
I write software to support marine metadata management, discovery and access through open source software (Drupal, Virtuoso, jQuery, OpenLayers), design patterns (RESTful APIs, MVC) and linked open data technologies (JSON-LD, RDF, ontologies/vocabularies).
Projects
BCO-DMO (Drupal, Virtuoso) 2014-present
Project Vocabulary Mapper (Drupal), 2012
R2R Cruise Planning Pilot Project (Drupal), 2012
WHOI Content Management System (Java), 2005-2012
- RESTful API (2012)
- Secure File Manager (2011)
- WHOI Cruiseplanner (2010)
- CMS Java libraries (2009)
- Sitebuilder (2007)
ConnectWHOI (Java), 2005-2012
- HR Application Suite (2010)
- People Manager (2009)
- MyWHOI (2006)
- LDAP Administrator (2005)
Skills
Languages

:

Java, PHP, jQuery, Javascript,

SPARQL,

SQL, Perl, C/C++, Coldfusion
Semantics

:

Linked Open Data, Virtuoso, RDF, RDFa, Protégé
Tools

:

Drupal, iOS SDK, Apache Struts, Apache Tomcat, Hibernate
DevOps

:

Git, Ant, Jenkins, Selenium, UNIX shell
Databases

:

MySQL, PostgreSQL, Oracle
Affiliations
Chair, Drupal Working Group, Earth Science Information Partners
Member, Earth Science Information Partners
Member, Descartes-Core Geo-Vocabulary Initiative
Member, European Geophyiscal Union
Member, American Geophysical Union
Member, WHOI Gender Equity Program Advisory Committee
Awards
2001 Co-op of the Year Award, Northeastern University
Reggie Lewis Scholar, Northeastern University
[back]