People Directory : Andrea L. Bogomolni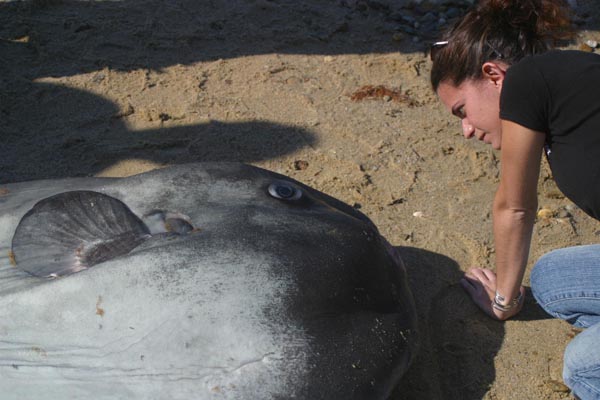 Andrea L. Bogomolni
Postdoctoral Investigator
Biology
Necropsy Coordinator
Office Phone: +1 508 289 3395
WHOI Mailing Address:
Woods Hole Oceanographic Institution
266 Woods Hole Rd.
MS# 50
Woods Hole, MA 02543-1050
Education
Ph.D Pathobiology, Department of Pathobiology and Veterinary Science, University of Connecticut 2014
M.A. Boston University Marine Program 2003
Certificate in Core Public Health UCONN/CT Department of Public Health 2011/2012
B.A. UC DAVIS 1999 Studio Art 1999
B.S. UC Davis 1999 Wildlife, Fisheries and Conservation Biology (Ecotoxicology)1999
Research Interests
Marine animal health, disease and pathology in marine animals, Oceans and Human Health, data management and database development, education and conservation, rebounding pinniped populations
Research Statement
Over the last 18 years, I have worked in several capacities to better understand the link between marine mammal and human health. My research is directed towards understanding and interpreting interdisciplinary aspects of ocean health. While my research objectives continue to focus on understanding baseline health, pathogen transmission and host susceptibility, interpreting and communicating these results the the public and for use in management and policy platforms is of great importance as well.
As an interdisciplinary community scientist, my collaborators include fishermen, veterinarians, engineers, marine mammal stranding organizations, social scientists, economists, NGOs, fishery and marine protected species managers, teachers, artists, and land owners and local residents.
The research I am involved with includes research on marine mammals as sentinels of ocean and human health, as well as research to address the often overlooked challenges of rebounding marine mammal populations in the context of health and ecosystem function. The goals of my research are to be able to provide the knowledge needed to mitigate human impact on marine species, understand risks of these impacts, facilitate effective collaborations, and raise awareness of ocean health and its connection to human health.
Andrea Bogomolni considers herself an interdisciplinary community scientist. She studied Wildlife Fisheries and Conservation Biology and Studio Art at UC Davis, then made her way to the east coast. She studied the effects of contaminants in seals on Cape Cod and obtained her Master's degree in Biology at the Boston University Marine Program. After spending 7 years working with marine mammals with the Cape Cod Stranding Network and the Woods Hole Oceanographic Institution, she went back to school to obtain a PhD with an interdisciplinary research fellowship in veterinary pathobiology at the University of Connecticut. She is currently a Postdoctoral Investigator at WHOI and the chair of the Northwest Atlantic Seal Research Consortium. She teaches Marine Mammal Biology at Bridgewater State Cape Cod and at the Shoals Marine Lab where she began the seal research intern program in 2011. Seals continue to play an important role in her research to understand human impacts on the oceans and the complex interactions between wildlife and humans.
Affiliations
Chair, Northwest Atlantic Research Consortium (NASRC) nasrc.whoi.edu
Awards
Interdisciplinary Research and training Initiative on Coastal Ecosystems and Human Health
(I-RICH) Graduate Fellowship 2008-2011
Switzer Environmental Leadership Fellowship 2011-2012
Sounds Conservancy Grant/Queben Labrador Foundation 2002, 2010, 2013
Multicultural Fellowship Award UCONN 2011-2014
UCONN Department of Pathology and Veterinary Sciences Pre-Doctoral Fellowship 2010 2011 2013
[back]