Profile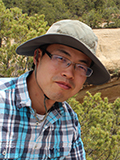 Zhixuan Feng
Postdoctoral Investigator
Biology
Office Phone: +1 508 289 3780
WHOI Mailing Address:
Woods Hole Oceanographic Institution
266 Woods Hole Rd.
MS# 33
Woods Hole, MA 02543-1050
Education
University of Miami, Ph.D. in Applied Marine Physics, 2014
Louisiana State University, Master of Science in Oceanography and Coastal Sciences, 2009
Nanjing University, Bachelor of Science in Geography, 2007
Research Interests
Coastal hydrodynamics;
Beach water quality;
Nearshore processes;
Estuarine processes;
Bio-physical interaction;
Arctic ecosystem.
Publications
Phillips, M.C., Z. Feng, L.J., Vogel, A.J.H.M. Reniers, B.K. Haus, A.A. Enns, Y. Zhang, D.B. Hernandez, and H.M. Solo-Gabriele, 2014. Microbial release from seeded beach sediments during wave conditions, Marine Pollution Bulletin, 79, 114-122.
Hernandez, R.J., Y. Hernandez, N.H. Jimenez, A.M. Piggot, J.S. Klaus, Z. Feng, A. Reniers, and H.M. Solo-Gabriele, 2014. Effect of full-scale beach renovation on fecal indicator levels in shoreline sand and water, Water Research, 48, 579-591.
Feng, Z., A. Reniers, B.K. Haus, and H.M. Solo-Gabriele, 2013. Modeling sediment-related enterococci loading, transport and inactivation at an embayed non-point source subtropical beach. Water Resources Research, 49, 693-712, doi:10.1029/2012WR012432.
Fiorentino, L.A., M.J. Olascoaga, A. Reniers, Z. Feng, F.J. Beron-Vera, and J.H. MacMahan, 2012. Using Lagrangian coherent structures to understand coastal water quality, Continental Shelf Research, 47, 145-149.
Enns, A.A., L.J. Vogel, A.M. Abdelzaher, H.M. Solo-Gabriele, L.R.W. Plano, M.L. Gidley, M.C. Phillips, J.S. Klaus, A.M. Piggot, Z. Feng, A.J.H.M. Reniers, B.K. Haus, S.M. Elmir, Y. Zhang, N.H. Jimenez, N. Abdel-Mottaleb, M.E. Schoor, A. Brown, S.Q. Khan, A.S. Dameron, N.C. Salazar, and L.E. Fleming, 2012. Spatial and temporal variation in indicator microbe sampling is Influential in beach management decisions, Water Research, 46, 2237-2246.
Feng, Z., and C. Li, 2010. Cold-front-induced flushing of the Louisiana bays. Journal of Marine Systems, 82, 252-264.
Feng, Z., X. Luo, and S. Gao, 2007. Dynamics in the Core Area of the Yancheng Natural Reserve, Jiangsu Province: a Preliminary Remote Sensing Study. Marine Science Bulletin, 26 (6), 68-74 (in Chinese).
[back]