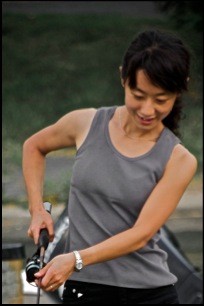 Yun Li
Postdoctoral Investigator
Biology
Office Phone: +1 508 289 2943
WHOI Mailing Address:
Woods Hole Oceanographic Institution
266 Woods Hole Rd.
MS# 33
Woods Hole, MA 02543-1050
Education
Ph.D. UMCES/HPL, Unversity of Maryland, College Park, 2012, Biological and Physical Oceanography
B.S. Ocean University of China, 2004, Marine Science
Research Interests
Phytoplankton and ice phenology
Coastal ecosystem
Stratification dynamics
Dissolved oxygen dynamics
Estuarine circulation and secondary circulation
Biophysical interactions
Hydrodynamic-biogeochemical models
Personal Statement
My research has been focused on physical and biogeochemical responses of coastal oceans to natural and anthropogenically-induced environmental change. Particularly, I am interested in the "bottom-up effects", which encompass the changes from physical environment (e.g., stratification, circulation, sea ice) to nutrient cycling (i.e., major and trace) to biological primary production. I actively collaborate with colleagues to link our understanding of those components to ecological problems and pave the way for studies of the complex food web. Coupled biogeochemical-physical models, complemented by analytical and observational approaches, are important tools for my studies.
[back]