Profile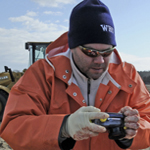 Scott Cramer
Senior Research Assistant II
Biology
WHOI Lab Phone: +1 508 289 3582
Office Phone: +1 508 289 2832
WHOI Mailing Address:
Woods Hole Oceanographic Institution
266 Woods Hole Rd.
MS# 50
Woods Hole, MA 02543-1050
Education
B.S. Biology/Marine Science Suffolk University
A.S. Management Information Systems, Computer Systems Specialist Program, Northeastern University
Research Interests
My research interests include marine animal anatomy and acoustics, biomedical imaging, data management, and forensic pathology.
Skills
Management of field and laboratory operations for Ketten Laboratory, the Computerized Scanning and Imaging Facility (CSI) and the Marine Research Facility Necropsy Suite (MRF)
Operation of a Siemens® Volume Zoom Computerized Tomography (CT) Scanner
2D and 3D computer imaging from DICOM standard formats
Drupal web design, development and maintenance (http://csi.whoi.edu)
Systems administration of laboratory computer and network systems (multi-platform)
Desktop computer technical support (PC and MAC)
Database design and management (SQL / MS Access)
Field and laboratory necropsy support
Biological specimen handling, preservation, and archiving
Surgical tools
Chemical handling and safety
Class 4 and 5 Forklift Operation
Rigging and hoisting
Photography
Proposal preparation
Management of federal permits
Facility educational tours and presentations
[back]