Profile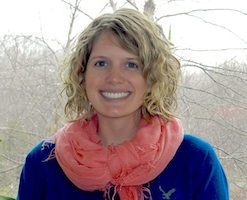 Sara J. Bender
Postdoctoral Scholar
Marine Chemistry & Geochemistry
Office Phone: +1 508 289 2237
WHOI Mailing Address:
Woods Hole Oceanographic Institution
266 Woods Hole Rd.
MS# 51
Woods Hole, MA 02543-1050
Education
Ph.D. University of Washington, 2013, Biological Oceanography
M.S. University of Washington, 2009, Biological Oceanography
B.A. Rutgers University, 2005, Biological Sciences

Research Statement
I am interested in how nutrient availability affects phytoplankton physiology and in turn, how phytoplankton physiology impacts the marine environment through the drawdown of nutrients. For my PhD research, I quantified gene transcripts in the lab and in the field to better understand metabolic similarities and differences among closely-related and phylogenetically-distant diatom species. My post doctoral research will apply proteomics methods to investigate the metabolic responses of Phaeocystis sp. to micronutrient availability in the Ross Sea and in Cape Cod Bay.
[back]