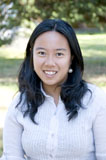 Karen Chan
Guest Investigator
Applied Ocean Physics & Engineering
Office Phone: +1 508 289 3243
WHOI Mailing Address:
Woods Hole Oceanographic Institution
266 Woods Hole Rd.
MS# 50
Woods Hole, MA 02543-1050
Education
2009-2012 PhD, School of Oceanography, University of Washington
2006-2009 MSc, School of Oceanography, University of Washington
2005-2006 Exchange student, Dept. Ecology and Evolution, University of California, Davis
2003-2006 BSc, 1st class honors, Environmental Life Science, University of Hong Kong


Research Interests
Broadly speaking, I am interested in combining experimental and modeling techniques to understand the role of individual behaviors in shaping population-level ecological interactions. Specifically, I am interested in 1) swimming performance of marine plankton, its relationship with physiologies, particularly in response to environmental variations such as ocean acidification, and its implications on population dynamics; 2) Functional morphology of marine plankton and its evolutionary implications. As an educator, I am interested in developing instructional techniques that would improve students' understanding of and interest in the scientific process.
[back]