Profile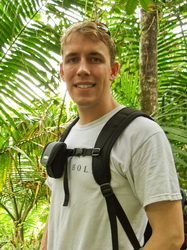 Julian Schanze
Postdoctoral Investigator
Physical Oceanography
Physical Oceanography
Office Phone: +1 508 289 2281
WHOI Mailing Address:
Woods Hole Oceanographic Institution
266 Woods Hole Rd.
MS# 21
Woods Hole, MA 02543-1050
Education
2003-2007: 4-year Master of Oceanography (MOcean), University of Southampton, National Oceanography Centre, England

2007-date: Ph.D. Candidate, MIT/WHOI Joint Program in Physical Oceanography, Massachusetts Institute of Technology / Woods Hole Oceanographic Institution


Research Interests
The Global Oceanic Freshwater Cycle, Satellite Remote Sensing, Data Assimilation and Analysis.
Research Statement
In my current research, I am focussing on the role of the oceanic component of the global freshwater cycle and its implications for ocean mixing. My Ph.D. work will focus on 'The Production of Temperature and Salinity Variance and Covariance: Implications for Diapycnal and Isopycnal Mixing'.
Skills
Oceanographic boatwork and sampling; extensive IT knowledge, including all common programs and hardware, networking, Linux and Unix, proficient programming in MATLAB, advanced programming skills in Fortran, basic programming skills in C, advanced web-design experience; electrical engineering experience, including PCB layouts, repair of electrical circuits.
Affiliations
Member of the American Geophysical Union (2009-date)
Awards
Raymont Memorial Prize for top performance on MSc Oceanography degree
Languages
German (native)
English (like native)
French (advanced)
Latin (reading)

[back]