People Directory : Geoffrey (Jake) Gebbie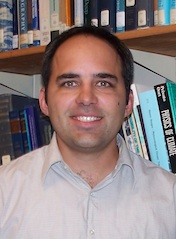 Geoffrey (Jake) Gebbie
Associate Scientist w/ Tenure
Physical Oceanography
Office Phone: +1 508 289 2801
WHOI Mailing Address:
Woods Hole Oceanographic Institution
266 Woods Hole Rd.
MS# 29
Woods Hole, MA 02543-1050
Education
Ph.D., Physical Oceanography, MIT/WHOI Joint Program, 2004
B.S., Atmospheric Sciences, UCLA, 1997
Research Interests
Physical oceanography and climate dynamics.
Estimating past ocean circulation and its role in paleoclimate, using physical models and biogeochemical records.
Analysis of climate variability through state estimation, especially the synthesis of general circulation models and observations.
[back]