People Directory : Daniel J. Repeta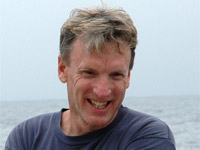 Daniel J. Repeta
Senior Scientist
Marine Chemistry & Geochemistry
Senior Scientist
Office Phone: +1 508 289 2635
Fax: +1 508 457 2164
WHOI Mailing Address:
Woods Hole Oceanographic Institution
266 Woods Hole Rd.
MS# 51
Woods Hole, MA 02543-1050
Education
B.S. University of Rhode Island, 1977, Chemistry
Ph.D. MIT/WHOI Joint Program, 1982, Oceanography
Research Interests
Cycling of dissolved organic matter; structural characterization of biological polymers, geochemistry of photosynthetic pigments; structure and synthesis of pigment degradation products.
[back]