Profile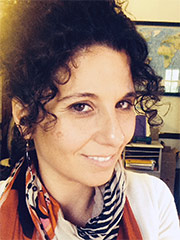 Danielle Fino
Information Systems Associate III
Communications
Web Communications Manager
Office Phone: +1 508 289 3624
WHOI Mailing Address:
Woods Hole Oceanographic Institution
266 Woods Hole Rd.
MS# 54
Woods Hole, MA 02543-1050
Education
B.A. State University of New York at Buffalo, 1996, Geology
M.S. Columbia University Graduate School of Journalism, 1997
Job Responsibilities
Responsible for managing the web development group and its responsibility for design, development, functionality, navigation, interface, and user experience of information products (including Web sites, tutorials, applications, etc.) Work with content/site owners across WHOI to define user needs, business goals, and requirements, and translate them into functional requirements that integrate excellent design and information architecture best practices to create prototypes, creative concepts, and products that blend the needs of the content owner and the user.
Skills
Project management; Web applications programming and development; web information/interface design; usability testing; image processing.
[back]