Profile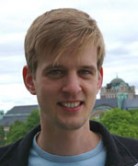 Christoph Aeppli
Postdoctoral Investigator
Marine Chemistry & Geochemistry
Office Phone: +1 508 289 3698
WHOI Mailing Address:
Woods Hole Oceanographic Institution
266 Woods Hole Rd.
MS# 04
Woods Hole, MA 02543-1050
Education
2008: PhD (Dr.Sc. ETH Zurich) Environmental Chemistry. Swiss Federal Institute of Technology (ETH Zurich)
2002: MS (Diploma) in Chemistry. University of Berne/Switzerland.


Collecting weathered Deepwater Horizon oil samples
Research Interests
I am interested to understand microbial and abiotic processes that determine the Fate of Organic Compounds in Aqueous Environments. Specifically, I focus on the transformation of Petroleum Hydrocarbons once released (accidently or through natural seeps) from their reservoirs. Furthermore, I am interested in sources and biodegradation of Halogenated Compounds. These compounds have been released in the environment in large quantities, can be microbially dehalogenated under suitable conditions, and have not only anthropogenic, but also large natural biotic and abiotic sources. To address my research questions, I use Stable Isotopes (carbon and halogen) and advanced analytical techniques such as Two-Dimensional Gas Chromatography.
Appointments
- 05/2011–present: WHOI, Dept of Marine Chemistry and Geochemistry. Postdoctoral fellow.
- 01/2009–04/2011: Stockholm University, Dept. for Applied Environmental Science (ITM). Postdoctoral fellow.
- 04/2004–12/2008: Swiss Federal Institute of Aquatic Science and Technology (Eawag), and ETH Zurich. PhD candidate.

Publications
peer-reviewd publications
[back]