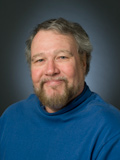 Bruce R. Woodin
Research Associate III
Biology
Office Phone: +1 508 289 3227
Fax: +1 508 457 2134
WHOI Mailing Address:
Woods Hole Oceanographic Institution
266 Woods Hole Rd.
MS# 32
Woods Hole, MA 02543-1050
Education
B.S. Duke University, 1973, Zoology/Mathematics
M.S. Texas A&M University, 1979, Biology
Research Interests
Effects of environmental pollutants on marine and freshwater organisms ranging from zooplankton to marine mammals, with particular emphasis on the cytochrome P-450 enzyme systems, their endogenous regulation, and induction by hydrocarbon pollutants; development of rapid and sensitive pollution biomonitoring tools and technologies; cellular and tissue specific expression of CYP1A determined using immunohistochemical techniques; expression and measurement of cell cycle regulatory proteins in zooplankton and larval fish; evolution of cytochrome P450s.
[back]