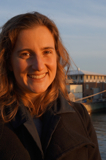 Alice Alpert
Joint Program Student
Geology & Geophysics
Marine Geology & Geophysics
Office Phone: +1 508 289 3328
WHOI Mailing Address:
Woods Hole Oceanographic Institution
266 Woods Hole Rd.
MS# 23
Woods Hole, MA 02543-1050
Education
ScB, Brown University, 2009
Research Statement
My PhD thesis research focuses on natural climate variations in the recent past, with the ultimate goal of better constraining climate sensitivity. I am interested in the amplitude and drivers of pre-anthropocene climate variability and in better constraining anthropogenic warming in remote ocean regions. To address these questions I construct records of water temperature using chemical proxies in coral skeletal chemistry. I have experience with mass spectrometric measurement of elemental ratios, stable isotopes, and radiocarbon.
To further understand ocean processes, I have modeled flow on a range of spatial scales using flume experiments and numerical modeling of ocean circulation.
Affiliations
MIT Department of Earth Atmospheric and Planetary Sciences
MIT Program in Oceans, Atmosphere, and Climate
Awards
Principal Investigator, Ocean Ventures Fund award, 2012
NSF Graduate Research Fellowship, 2011
[back]