| | |
| --- | --- |
| Fisheries and Aquaculture Extension | |
With a focus on shellfish—important both commercially and recreationally—and nearshore coastal issues (e.g., eelgrass decline and water quality), Woods Hole Sea Grant serves a diverse group, including commercial shellfishermen, aquaculturists, natural resource managers, researchers, and citizens. Partners include Cape Cod Cooperative Extension (CCCE), the Southeastern Massachusetts Aquaculture Center, and the Barnstable County Shellfish Advisory Committee.



Oyster Restoration




In response to dwindling numbers of oysters, Woods Hole Sea Grant has worked in cooperation with CCCE to restore banks of oysters along the shores of Cape Cod. Juvenile oysters, spawned in a hatchery and attached to pieces of shell, have been deployed in nine towns. These oysters provide valuable habitat and may improve water quality—and eventually a nice catch for a fisherman. Drawing by Tessa Morgan for Woods Hole Sea Grant



Assessment of Shellfish Habitat


Woods Hole Sea Grant has helped to develop a simple, inexpensive means of assessing and comparing habitats in terms of shellfish survival and growth. This tool allows shellfish growers and natural resource managers to identify optimal sites for shellfish. A training DVD describing this assessment tool will soon be available.



Management of Shellfish Diseases


While the region's shellfish diseases do not affect human health, they pose a significant hurdle to shellfish farmers and to sustainable management of the public shellfisheries. Woods Hole Sea Grant is working with growers, resource managers, and scientists to develop reasonable protocols for movement of shellfish as well as improved culture methods to reduce losses.



Eelgrass Restoration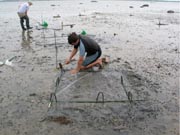 To stem the tide of decline of eelgrass beds across the region, the program is exploring several methods of restoration of this valuable habitat. Most recently, Woods Hole Sea Grant has initiated a field test of planting eelgrass seeds. Seeds, collected from flowering stalks, are harvested and planted in promising areas. Photo by Bill Walton, Woods Hole Sea Grant/CCCE



Assistance to the Massachusetts Shellfish Aquaculture Industry


Woods Hole Sea Grant works closely with shellfish farmers, providing technical advice and information on issues of concern such as predator management, control of diseases and marketing issues. Recently, we assisted with the authoring of Best Management Practices for the industry as well as development of a regional campaign to identify Cape Cod and Islands cultured shellfish.