Related Links
At Woods Hole Sea Grant, the goal of the Outreach, and Education theme is effective dissemination of Sea Grant information, research, and technology. By reaching out to audiences in an attempt to answer questions, increase environmental awareness, improve science literacy, and bridge the gap between marine research and an informed and knowledgeable public, the Sea Grant outreach effort is making significant contributions to citizens and organizations within the Commonwealth of Massachusetts as well as the northeast region and the nation.
---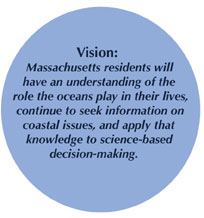 Goal: Citizens will have the tools to make connections between ocean science information and coastal and ocean decisions.
Objective 1: Citizens of southeastern Massachusetts will have multiple opportunities, in a variety of venues, to access Sea Grant research applicable to their interests and needs.
Objective 2: Coastal decision-makers will utilize Sea Grant research results and outreach products, and participate in training opportunities, to increase their ability to design environmentally sound policies.
Objective 3: Educators in southeastern Massachusetts will use ocean science examples, including Sea Grant funded research, to convey basic scientific concepts to their students.