Coastal ponds, estuaries, embayments, open coasts, and coastal resources are highly impacted by society's commercial, recreational, and residential activities. In southeastern Massachusetts, development in coastal communities was among the highest rate of increase within the Commonwealth of Massachusetts.
The population of Barnstable County (Cape Cod), Dukes County (Martha's Vineyard), and Nantucket County has been dramatic when compared to overall population growth in the Commonwealth, as shown in the following graph:
Other threats to coastal communities include sea-level rise, erosion, conflicts between the protection of waterfront property and the preservation of the beneficial functions of coastal landforms and resources, conflicts between private ownership of the coast and public access, and recreational demands of the increasing coastal population (boating, fishing, shellfishing, beaches). Research supported within this theme is often multidisciplinary and interfaces directly with the management community charged with making regulatory decisions.
---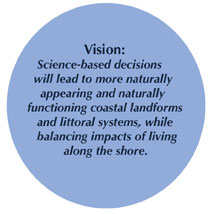 Goal 1: Stakeholders will use science-based information to make more informed decisions about coastal land use issues.
Objective: Increase the availability of science-based information for coastal residents, managers, stewards, and decision-makers regarding protection, prediction, risk reduction, and economic impacts associated with living along the shore.
Goal 2: Stakeholders will maximize use and enjoyment of coastal resources while minimizing human impacts on the beneficial functions of coastal landforms and coastal processes.
Objective: Stakeholders will have scientific-based information to make more informed decisions about land-use issues, particularly regarding coastal landform function and coastal processes.