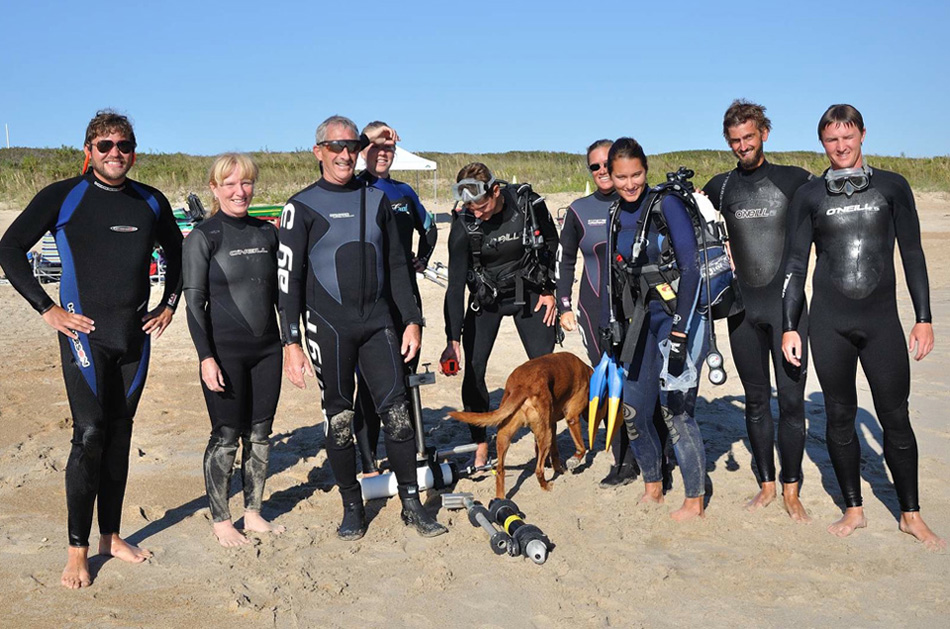 1.

Levi Gorrell, Edith Gallagher (Franklin and Marshall College), Steve Elgar, Regina Yopak, Evan Williams, Whit, Britt Raubenheimer, Dana Giffen, Seth Zippel, and Sean Kilgallin after a day of scuba diving in the surfzone during an NSSEFF-funded beach perturbation experiment in Duck, NC.

(Photo by William Birkeimeir)
2. Brian Guest (center), Andrew Kowalzcyk (left) and Steve Lambert launch a sound source mooring for the DIMES cruise aboard the R/V Thomas Thompson in 2010. DIMES is a US/UK field program measuring diapycnal and isopycnal mixing in the Southern Ocean. (Photo by Cindy Sellers)
3. Research Associate Levi Gorrell and MIT-WHOI Joint Program student Elizabeth Halliday place a coring tube while microbial ecologist Rebecca Gast checks the distances between sample sites on the beach at Duck, N.C. The researchers took samples of sand to find out whether it harbored DNA from bacteria and whether wind and waves that moved the sand also moved the DNA. The presence of fecal bacteria in water is a common cause of beach closures, and investigators are now studying how physical processes at the beach may affect the distribution of bacteria. (Photo by Steve Elgar)
4. MIT-WHOI Joint Program students Mara Orescanin and Melissa Moulton bring sediment cores filled with sand samples onto the ferry during a recent Martha's Vineyard field experiment. In the background, Research Associate Sean Kilgallin carries more equipment.
5. The science team retrieves water samples from a rosette during an Oceanus cruise. (Photo by Luciano Fernandes)
6. The surfzone team prepares to return to the waves at sunset. (Photo by Melissa Moulton)
7.

Jim Ledwell at the tracer GC during a DIMES cruise aboard the RRS James Clark Ross in April 2011.

(Photo by Brian Guest)
8. Wave breaking over the Oceanus bow. (Photo by Luciano Fernandes)
9. Jim Ledwell, eyeing a lift on a recent cruise.
10.

Levi Gorrell, Britt Raubenheimer, Evan Williams, and Melissa Moulton push a rickshaw jet pump used to install pipes into the sandy seafloor up the beach and away from the breaking waves at Duck, NC.

(Photo by Steve Elgar)
11.

Levi Gorrell, Seth Zippel, Steve Elgar, Christen Rivera, Danik Forsman, and Jason Pipes (FRF) on the amphibious Larc preparing to deploy current meters near Duck, NC.

(Photo by Regina Yopak)
12. Chief Scientist Dennis McGillicuddy discusses strategy with the science team aboard the Oceanus. The research objective for the cruise was the synoptic mapping of Alexandrium fundyense, hydrography, and velocity in the coastal current from Cape Cod to Georges Bank. (Photo by Luciano Fernandes)