Media Tip Sheet for AGU
The following reports will be presented by Woods Hole Oceanographic Institution (WHOI) scientists at the Fall 2009 Meeting of the American Geophysical Union (AGU) meeting in San Francisco. Additional media resources are available at www.whoi.edu/AGUresources.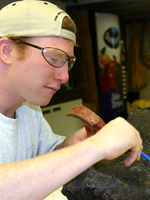 Adam Soule
Associate Scientist, Geology & Geophysics
A ringside seat to the aftermath of an undersea volcanic eruption
Analyzing data and photography from a rare first-hand look at the immediate aftermath of an undersea volcanic eruption, a research team led by WHOI Scientist S. Adam Soule has assessed the eruption's impact along the mid-ocean ridge area of the East Pacific Rise. Seismic data from the 2005-06 eruption, along with photos from towed cameras and the WHOI-operated submersible Alvin, have yielded one of the clearest pictures yet of the effects of such an undersea event. The scientists found that though there was a short-term adverse effect on local marine life, the long-term effect may not be significant. They report that "fast-spreading ridge eruptions may disrupt active faunal communities," but the habitat for re-colonization is "nearly identical" to what it was before the eruption.

Time of Presentation: Dec. 14, 8:30-8:45 a.m.
Location: 3003 Moscone West

Related link:
» Scientists "See" New Ocean Floor Just Before and After It Is Created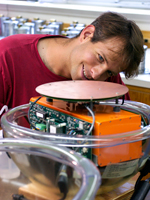 Jeffrey J. McGuire
Associate Scientist, Geology & Geophysics
Microquakes at East Pacific Rise: A step toward prediction?
Almost a quarter century ago, scientists began instrumenting a central-California portion of the San Andreas Fault in the town of Parkfield. Though much has been learned from the data gathered over the years, little progress has been made toward the ultimate goal of being able predict an earthquake. Some think certain ocean seismic zones—because of their configuration and makeup--may hold more promise toward that end. Now, Jeffrey J. McGuire and Emily C. Roland of the WHOI Geology and Geophysics department report the detection of some 100,000 micro-quakes at transform faults along the East Pacific Rise in the weeks leading up to sizeable quakes, in the 5.5 to 6-magnitude range. Because of its similarity to these types of faults—and if monitored similarly--the subduction zone off the Pacific Northwest coastline might be seen to behave in a similar fashion, McGuire suggests.

Two Presentations

1. Emily C. Roland
Time of Presentation: Dec 15 1:40 - 1:55 pm
Location: 2009 Moscone West

2. Jeffrey J. McGuire
Time of Presentation: Dec 18 11:50 am - 12:05 pm
Location: 2005 Moscone West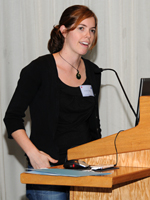 Alison Shaw
Associate Scientist, Geology & Geophysics
Analysis of glassy fragments from Arctic seafloor eruption provide an ?unexpected result?
A research team led by WHOI scientist Alison M. Shaw has uncovered some surprising facets to the glassy rock fragments discovered in the wake of a nearly 2.5-mile-deep volcanic eruption at the Gakkel Ridge in the Arctic Ocean. The rocks, found during a 2007 WHOI-led expedition, were the first "pyroclastic deposits" ever seen in such deep water, suggesting the release of a powerful blast of carbon dioxide into the water during the eruption. Now, Shaw and her colleagues report that the glasses and "other melt inclusions" are "remarkably homogeneous, an unexpected result for ultra-slow spreading environments where wide geochemical diversity is anticipated." The results, the scientists say, suggest a model in which the melting substances pool at a depth of 9-20 kilometers and then crystallize as they rise with the eruption of magma. "The work that I will be presenting focuses on understanding how melts are generated beneath ultra-slow spreading ridges," says Shaw, "and how we can quantify fluxes of volatiles such as carbon dioxide, sulfur and water from these environments." The other WHOI researchers in the study were Mark D. Behn, Susan E. Humphris and Robert Reves-Sohn. P.M. Gregg of the Oregon State University Department of Geosciences also participated in the research.


Time of Presentation: Dec. 17, 10:35-10:50 a.m.
Location: 2020 Moscone West

Related link:
» Geologists Discover Signs of Volcanoes Blowing their Tops in the Deep Ocean Evidence of Violent Eruptions on Gakkel Ridge in the Arctic Defies Assumptions about Seafloor Pressure and Volcanism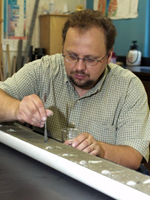 Liviu Giosan
Associate Scientist, Geology & Geophysics
The Great Diversion: Danube Delta under Human Control
Many deltas around the world are suffering from sediment deficits that render them unstable to current and predicted rates of sea level rise. One proposed solution to alleviate the complete or partial drowning of such deltas is the use of river diversions to increase the quantity of sediment supplied to the delta plain to support marsh accretion. Liviu Giosan of the WHOI Geology and Geophysics department assesses the results of a half century old program of diversion in the Danube delta that led to the creation of an extensive diversion channel network. Giosan will also discuss the sustainability of the delta as a sediment budget problem within a sea level rise context.

Time of Presentation: Dec. 17, 2:40-2:55 p.m.
Location: 2008 Moscone West

Related link:
» The Once and Future Danube River Delta Past changes in World Heritage site offer lessons for proposed river projects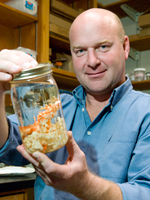 Timothy Shank
Associate Scientist, Biology
Impacts of Volcanic Eruptions and Disturbances on Mid-ocean Ridge Biological Communities
Volcanic eruptions occur in diverse ways in the deep-sea from rumbling ejecta out of discrete openings in the seafloor to massive lava flows to explosive pyroclastic (glass) released from seamounts and mid-ocean ridges. The response of benthic communities on both ecological and evolutionary timescales to these disturbances is equally as varying. Tim Shank of the WHOI Biology Department will report on how species have selectively adapted to these disturbances and how the extent of these eruptions has a dramatic impact on the ability of species and communities to recover.

Time of Presentation: Dec. 17, 5:15-5:30 p.m.
Location: 2005 Moscone West

Related link:
» Tim Shank's Molecular Ecology and Evolution Lab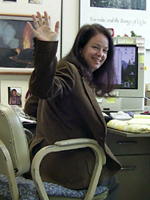 Patricia Fryer
Geologist, University of Hawaii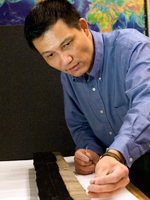 Jian Lin
Senior Scientist, Geology & Geophysics
Study of Algerian earthquake yields clues in assessing possible future California quakes
An examination of the interplay of stresses surrounding the magnitude 6.9 earthquake in Algeria has given scientists new insight into evolution of certain types of quakes in regions that include Central California and the Los Angeles Basin. Lead author Jian Lin, a senior scientist at the Woods Hole Oceanographic Institution (WHOI), reports a "strong earthquake interaction" between offsetting thrust faults called en echelon faults and adjacent tear faults in the 2003 Zemmouri quake off Algiers. "We…illustrate that strong earthquake interaction between thrust ruptures and adjacent tear faults is an essential feature of contractional tectonics." Says Lin. "Thus, such stress interaction must be considered in assessing earthquake potentials in contractional regions of the world, such as northern Algeria, central California and the Los Angeles basin."

Time of Presentation: Dec. 18, 8 a.m. -12:20 p.m.
Location: Poster Hall, Moscone South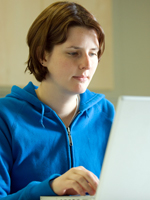 Claire Willis Pontbriand
Joint Program Student, Geology & Geophysics
Ocean-bottom seismometers detect tiny earthquakes at Mid-Atlantic Ridge
A network of five seismometers positioned around an active hydrothermal mound on the Mid-Atlantic Ridge detected 31,422 "locatable events" over a nine-month period. "This evidence suggests that these very small micro-earthquakes may be triggered by hydraulic pressure" associated with mineralization at and around the mound, reports Claire Willis Pontbriand, a graduate student at WHOI.

Time of Presentation: Dec. 18, 11:05-11:20 a.m.
Location: 2005 Moscone West
Last updated: October 26, 2015